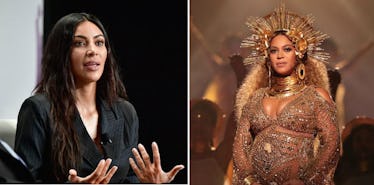 Twitter Is Roasting Kim K After Beyoncé Shares First Photo Of Rumi & Sir Carter
Dia Dipasupil/Christopher Polk/Getty Images
You know who's probably not happy about that photo of Beyoncé's twins that has the internet in a tizzy this morning? Kim Kardashian.
You know why? Because now that we might have an official birthday for little 1-month-olds Rumi and Sir Carter, we've learned a very important fact: Bey's twins' birthdays are right before North West's birthday, which is June 15.
Beyoncé captioned the photo, "Sir Carter and Rumi 1 month today." Since Bey posted the photo at 1 a.m. ET on July 14 (which is 10 p.m. PT July 13), it's hard to say whether the twins' date of birth is June 13 or June 14.
But we do know for sure that North West was born on June 15, 2013.
So, Sir and Rumi's birthday is either the day before Kim K's daughter, or two days before. Either way, the Instagrams of the birthday parties are going to overlap, and we all know how Kim hates to share likes.
And there's also just the fact that Kim K always likes to be the center of attention whenever she can.
So Twitter picked up on those facts Friday morning, and, being Twitter, wasted no time roasting poor Kim K.
You can bet Kim will be Regina George-ing out right now.
Either that, or she's having a good cry.
(And we all know what that iconic crying face looks like.)
Perhaps some aggressive gardening will ease the pain of Bey's Insta blowing up?
I'll definitely be keeping an eye on Kim's Insta today for retaliation.
It might be ridiculous to think Bey planned this, but I feel like maybe she did?
I also wouldn't put it past Kim to get pregnant again, just for this.
I'm just saying, don't be surprised if that happens!
One thing is for sure: We'll definitely be getting a Kim K photo shoot soon.
Don't worry, Kimmy. I'm sure you'll think of something.