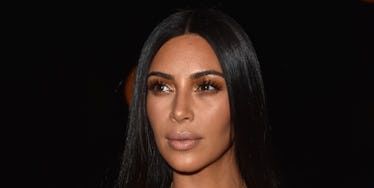 If You Missed Kim K's Beauty Line, Here Are 8 Other Contour Kits To Buy
Pascal Le Segretain/Getty Images
Kim Kardashian launched KKW Beauty on Wednesday with the brand's first product: Crème Contour and Highlighter Kit in four different shades.
The kits come in light, medium, dark, and deep dark shades and are only available on KKWBeauty.com.
Well, I should say they were available on KKWBeauty.com.
The product launched at 9 am PST/12 pm EST, and within 15 minutes, certain shades were already sold out.
According to Kardashian, medium was the first shade to go.
Light sold out just several minutes later.
Honestly, we shouldn't be surprised KKW Beauty is following in the footsteps of Kylie Jenner's mega-famous lip kits, but that doesn't mean you need to completely give up on your dreams of having perfectly contoured cheekbones this summer.
I've rounded up a list of other options to try out -- and some are much cheaper than Kim K's, which sells for $48.
Shade & Illuminate Highlighter and Shade Duet, $82, Nordstrom 
Gucci Westman, famous makeup artist to celebs like Jennifer Aniston and Kate Hudson (nbd), recommends Tom Ford for contouring, so while it's pricier than Kim K's, you know it has to be pretty good.
Bronze & Glow Kit, $68, Nordstrom 
Famous makeup artist Charlotte Tilbury created her own kit that she uses on clients like Nicole Kidman and Emily Ratajkowski.
Contour Kit, $40, Sephora 
This is the contour kit that celebrity makeup artist Sir John uses on his famous list of clients -- which includes Beyoncé. So I'd say that's a solid option. What's good enough for Queen Bey is good enough for me.
This kit has also been recommended by Mario Dedivanovic, makeup artist to none other than Kim Kardashian.
Glow Face Palette, $46, Sephora 
OK, so this is technically not marketed as a contour kit, but Chrissy Teigen (who is pals with Kim K) recently collaborated on this palette, which comes with a blush, pressed highlighters, and a bronzer.
Stylist Mary Phillips says she uses the Sunlit Bronzer in Malibu Soleil to contour Teigen's face. It also happens to be $2 less than Kimmy's.
Step-By-Step Contour Kit, $45, Sephora 
If you're new to the whole contouring thing, you might want to try something a little more user friendly. This kit from Smashbox comes with an application guide based on face shape. And if you need more convincing, Shay Mitchell is a fan!
Contouring 1.2.3 Kit, $45, Sephora 
This beauty blogger-recommended kit includes a BB cream with SPF 30 -- so it's ideal for this time of year. Another plus? It has really cute packaging, which many feel Kim Kardashian's product is seriously lacking.
Contour Palette, $13, Amazon 
So maybe you want to look like the celebs but you're on a budget (read: you're broke). The CoverGirl palette was created by celebrity makeup artist Pat McGrath. That's a drugstore price with a Hollywood name behind it, so I'm thinking it's definitely worth a shot.
Contour Palette, $6, Amazon 
Continuing on with drugstore prices, Best Products dubbed this palette "the drugstore version of Anastasia Beverly Hills' collection," and for just six bucks, it's probably worth testing that claim.
It will only be a matter of time before reviews of KKW Beauty start rolling in from the lucky customers who were able to snag product, but until then, there is no shortage of tried and true contour kits to keep your beauty game going strong.