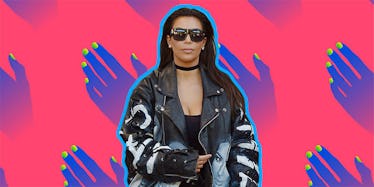 Here's What Kim Kardashian Would Tell You To Do To Shut Down The Haters
REX/Shutterstock
If you're one of the many haters trolling Kim Kardashian on a daily basis, she doesn't care about your opinion of her -- and she's making that VERY clear.
The 35-year-old star sat down for a tell-all interview with her BFF Jonathan Cheban to discuss exactly how she deals with the onslaught of hate that comes with being one of the most famous people in the world.
Kim started off by saying,
When I feel like someone's being fake is the time that I'll, like, say something, and it's usually really publicly.
Interesting. That sounds like the time Taylor Swift tried to act like Kim didn't have the receipts regarding the 26-year-old singer giving Kanye West permission to mention her in "Famous." Kim was very public about that.
Kim went on to say,
My tip on clapping back is just do whatever makes you feel good. Like, if you feel like talking shit to someone, go for it.
Kim knows a thing or two about "clapping back."
Remember the time Bette Midler had harsh words for Kim Kardashian after she posted this on Instagram?
Bette Midler certainly remembers!
Kim had a little something for Midler's quip.
While reflecting back on the incident, Kim told BFF Jonathan Cheban,
Hey -- you do you, let me be me. No need to be rude, or, like, tear someone else down.
As for the rest of the haters looking to bait Kim Kardashian with drama? Good luck.
After all of these years of having to deal with the world's opinion, it seems like Kimmy's got it all figured out when to comes to picking and choosing who to go to war with. Can you blame her?
Kim revealed,
I personally take the high road most of the time. Like, I just don't care. So, I always think, 'Will I be affected by this tomorrow? Will I be affected by it in a week? Will I be affected in a month, or in a year?' And usually the answer is no.
But you have to remember, she's human, too. There HAS to be something that gets under her skin...
Two words: body shamers. Kim added,
Like, body shamers -- 'You must have gotten lipo, you know, to lose all your baby weight. You have no idea how hard it is for me to do low carbs and to really focus, and to do this. I spend so much time and energy working out, getting up at six in the morning, making sure I'm finished working out before the kids are up. That's something that pisses me off. You don't know the half of it, you know?
It's a good thing Kim Kardashian's 3-year-old daughter North West is motivating Kim not to worry about what other people think and to live comfortably in her own skin.
She said,
As North gets older, she'll start to be more aware of herself and her body. Her attitude toward her body is directly related to my own, so it's my responsibility to make sure she understands that positive body image comes from having a healthy self-esteem.
Keep doing you, Kim. Don't let the haters win -- EVER.
Citations: Kim Kardashian on Clapping Back at Haters: I'll Say Something 'When I Feel Like Someone's Being Fake' (Entertainment Tonight)