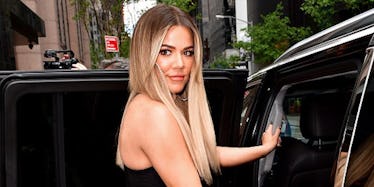 Khloe Kardashian Uses A Vibrator During Her Workouts, But It's Not What You Think
Getty Images/James Devaney
When I started to include foam rolling in my own personal fitness routine, I thought it was some kind of mild form of torture at first. Let's just say the phrase "hurts so good" is an understatement when it comes to foam rolling. But, I have to admit, the benefits that the trusty old roller brings to my #GymGoals are simply too good to ignore. So when I found out that Khloe Kardashian's workout plan involves a vibrating foam roller, I was honestly very, very intrigued that such a thing even exists.
Yes, Khloe Kardashian technically uses a vibrator as part of her workout routine. But before your mind begins to drift toward fantasies of the kinky BDSM variety (not that there's anything wrong with that, but hey, you were totally thinking about it), you should probably know this vibrator is legitimately used just for workout recovery. I promise -- or at least, I'm pretty sure this Kardashian only uses it when she exercises. But hey, what a woman does in the privacy of her own bedroom is her business, feel me?
Khloe showcased her trusty vibrator in a video posted on the manufacturer's Instagram, Cosmopolitan reports.
She demonstrated how this bad boy can literally give your muscles life, pre- or post-workout.
Now, if you've never rolled out with a typical foam roller before, the process is super simple and efficient. Foam rolling is also known as myofascial release, which basically means giving yourself a deep-tissue massage. Can I get a group "yaasss" please?
The self-massage stimulates fascia, which is the thin layer of connective tissue that surrounds your muscles. Foam rolling not only helps stretch the muscles, it also digs deep into those hard-to-reach crevices -- breaking down scar tissue and strengthening the areas when they heal.
Doing this after an intense sweat sesh, or even when your hamstrings are just feeling really tight, increases blood flow to the targeted area. Plus, according to a 2014 study, foam rolling improves your flexibility and range of motion.
TBH, it doesn't seem like there's anything the revered roller can't do, because foam rolling can even help with delayed onset muscle soreness -- aka those torturous post-leg-day feels.
In the long run, myofascial release can reduce exercise-related injuries, and even start to feel f*cking amazing over time -- once you get past the initial shock of the intense muscular massage, that is.
OK, so what's the deal with Khloe's vibrating contraption then? Like, is the whole vibrating aspect to it really necessary?
According to Hyperice -- the makers of Khloe's high-tech toy -- vibrating foam rollers take "regular" rolling to the next level.
Essentially, combining the frequency of the foam roller's vibrations with the pressure and stimulation of rolling your muscles delivers a deeper dose of muscle activation and increases flexibility and range of motion in ways traditional foam rolling simply cannot.
Adding a vibrating foam roller into your post-workout routine can help your muscles recover even more quickly from intense activity, which is why celebs and athletes are all about it.
However, let's not discount the amazing benefits of good ol' stretching. From injury prevention, to muscle relief, to stress reduction, simply stretching out your own bod (no equipment involved) will always be effective and reliable.
But, if you idolize your girl Khloe, I suppose you could go ahead and splurge on the same vibrating foam roller, but be warned, it costs nearly $200.
If you do decide to make the investment, please don't bust it out in the bedroom. I think it's safe to say that's not Kardashian-approved.