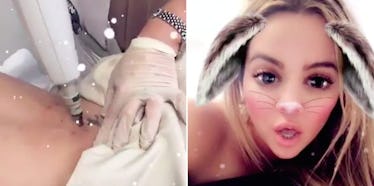 Khloé Kardashian Got Her Tramp Stamp Removed, Even Though It Was For Her Dad
Snapchat
It's totally acceptable to get those tramp stamps removed, people, even if you initially got them to memorialize your dead loved ones.
Seriously, your grandmother's otherworldly spirit will totally understand why you don't want angel wings with her birth and death dates inked above your ass crack anymore. She. Will. Get it.
Khloé Kardashian is confident her late father, Robert Kardashian Sr., would support her decision to laser off the tramp stamp she got in his honor years ago.
In a series of videos on Instagram and Snapchat over the past year and a half, Khloé showed fans the process of removing the "Daddy" tattoo above her butt.
In the caption of a 2015 post, she told followers,
The end of an era.... Got this bad boy when I was 16.... Not so cute anymore [speak no evil emoji] I should've listened to Kim when she told me 'you don't put a bumper sticker on a Bentley.' Bye-bye bumper sticker!!! Thank you Dr Ourian!!!! You are the best!
Oh, Kim. What a hilariously savage way to criticize a seemingly permanent choice your sister already made.
This week, Khloé continued the process.
The reality star let Nurse Jamie zap the cross right off of her lower back.
The process isn't comfortable or fun, but Snapchat at least let KoKo turn the laser gun into a cute bunny!
Kim K even posted a video of the event on her Snapchat.
It's a fleeting source of joy, but sometimes you just have to take what you can get.
Khloé's wanted the tattoo, which she got when she was just 16, removed for years. In 2009, she told Ryan Seacrest,
On my lower back, I don't like the location... I got a trendy location. It's called a 'tramp stamp.'
Khlo, you can't live your life for your tramp stamp. Fly and be free. Your back is a blank slate, and your skin is smooth and clear like a dolphin.
Be the dolphin you want to be, KoKo. Be the dolphin you're meant to be. Be the dolphin without a tramp stamp.
Citations: Khloé Kardashian Gets Tattoo Honoring Father Removed: 'Bye Bye Tramp Stamp' (PEOPLE)