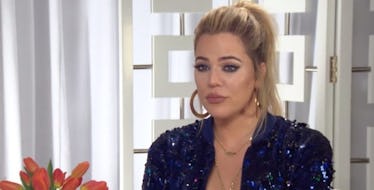 Khloé Kardashian Reacts To Kim K Robbery Charges Live During Interview
E!
In October, Kim Kardashian was held up at gunpoint inside her Paris hotel room while masked men dressed as police officers stole millions of dollars worth of jewels.
Yesterday, four people were charged for the robbery.
According to E! News, the 27-year-old brother of the limo driver Kim used in October might be facing charges for conspiracy in the robbery.
In addition, three other men were charged and placed in provisional detainment.
Great news, right? I think so. The Kardashians are one step closer to finally solving the case. So, what do Kim's family members think about the charges?
Well, yesterday Kim's sister Khloé Kardashian was told the news live during an interview.
Yup! No greater time or place to tell a girl information about her family member.
The "Revenge Body" star sat down with E! News' Catt Sadler to talk about Kim Kardashian's robbery and how the family is moving forward.
At the beginning of the clip, Catt tells Khloé Kardashian three people were charged. (This was before E! News learned of the fourth person.)
When asked how she feels about the news, Khloé said it definitely provides her peace. She explained,
Well, I knew they took in, I think like, 14 yesterday or something like that ... so it's great to know three are charged ... I don't know if they're charging more, I'm not sure ... but it's just disgusting that someone would rob anybody whether you're the poorest of the poor ... the richest of the rich, no one deserves to be treated like that. So, I think anyone should be accountable for the actions that they do. So yes, that brings definite comfort ... I would love to know what their sentencing is.
Khloé concluded her response by saying the experience wasn't just traumatic for her sister, but for everyone involved, including her family members.
Kim Kardashian will speak out for the first time about the robbery in the new season of "Keeping Up With The Kardashians," so stay tuned.
Citations: Suspects In Kim Kardashian Robbery (E Online), Khloe Kardashian Reacts to Kim Robbery (E Online)