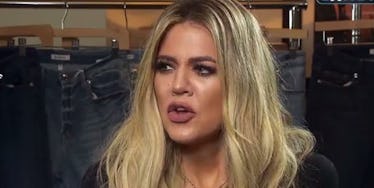 Khloé Kardashian Responds To Trump's 'Fat Piglet' Comments: It's Cruel
Extra
Sorry, Donald. Khlo-Money is after your ass.
On Monday, Khloé Kardashian opened up about the hateful comments Donald Trump made about her while on "Celebrity Apprentice."
As previously reported by Elite Daily, multiple sources who worked on the show claim the presidential candidate called Khloé a "fat piglet" moments before firing the contestant.
According to The Huffington Post, an editor recalls a conversation that took place behind-the-scenes. The source explained,
He basically wanted to just get rid of her. He called her a 'piglet.' [Trump asked:] 'What is this? We can't even get the hot one?
Trump was also quoted saying,
Why don't we fire Khloé? She is a fat piglet. Why did we get the ugly Kardashian?
BREAKING NEWS, YOU GUYS! TRUMP'S A MISOGYNIST!
Khloé had a lot to say about the nasty comments. While promoting her new denim line, Good American, the "Keeping Up With The Kardashians" star told The Los Angeles Times,
I didn't think he was saying those things about me. But he says those comments about a lot of women — really derogatory things.
Fucking preach, bb girl. TAKE. HIM. DOWN.
She continued,
Someone who is that simplistic to judge things off of surface is not someone I want running my country. It's not cool or appropriate for any person, male or female, to judge someone else by their looks. I find it really cruel. It's wild.
Khloé has thick skin, though, so Trump's gross remarks aren't going to weigh her down. She explained,
I'm a tough cookie, so something that he said — that's not gonna bother me. Ninety percent of the time, [criticism] doesn't bother me. I'm not sure why. I think I'm just in my own world… If that's what it takes to get even just this little group of people to realize how shady and bad and negative that one person is, I can take it.
She echoed her response in an interview with Extra, calling Trump "immature and cruel."
Sorry Donald, it looks like Khloé Kardashian doesn't have your vote. Maybe you should drop out -- just a suggestion!
Citations: Khloé Kardashian Responds To Donald Trump (Daily Mail), Khloé Kardashian Responds To Donald Trump (Extra TV)