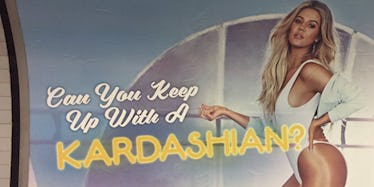 People Are Pissed At This Body-Shaming Ad Featuring Khloé Kardashian
Twitter
If you've been keeping up with Khloe Kardashian these days, you're well aware of the fact she's completely focused on achieving the ultimate "revenge body."
That's probably why she has her own show on E! called "Revenge Body." The show is aimed at helping other men and women achieve their dream body after years of being unhappy with themselves.
It sounds like a pretty constructive fitness concept, doesn't it? Well, quite a few people out there don't necessarily think so. Health experts have spoken out against "Revenge Body with Khloé Kardashian."
Dietician and health and body positivity coach Rebecca Clyde took to Facebook, saying,
The idea to package a 100% appearance based program in a pretty & body positive bow is horrifying. Getting back at your ex with a 'revenge body' is not empowering, nor is it body positive. It can't be, it is the antithesis.
Despite the ongoing criticism surrounding Khloé's new show, fans still appreciate the 32-year-old star's will to want to get everyone in the best shape of their lives.
Now, she's got another problem on her hands. Londoners aren't too happy with Khloé's most recent advertisement for Protein World.
The ad campaign description reads,
Our aim is to help every person become the best version of themselves, and who better to help us spread this message than self-confessed 'gym bad ass' and hottest fitness inspiration on the planet... Khloé Kardashian.
That's not what people are upset about. Apparently, there are quite a few posters of Khloé Kardashian promoting the fitness brand throughout London's Tube subway system.
Positioned next to a life-size Khloé, text reads,
Can you keep up with a Kardashian?
Of course, the ad is seemingly hinting that Khloé's body should be everyone's #FitnessGoal, only not everyone agrees.
People have taken it upon themselves to bash Khloé Kardashian's new body-shaming ads for Protein World.
This isn't the first time Protein World has been under fire for their body-shaming advertisements. This is from a 2015 "beach body" ad.
According to Cosmopolitan, the company experienced similar backlash in 2015 after Londoners refused to put up with Protein World's advertisements claiming their product is needed to achieve the ultimate "beach body."
Of course, the only way to achieve such a body would be to, well, put on an actual bikini and go to the beach.
Protein World however was suggesting their product was the only way to reach the promised land where everyone is content with their bodies.
The brand's marketing director appeared on Sky News to talk about the campaign.
Based on that clip alone, it's quite clear Protein World never learned its lesson from the immense backlash. To top it all off, London mayor Sadiq Khan banned the use of body-shaming ads in the city.
Khan having two daughters of his own may have had something to do with it.
As a result of the ban, Khan appointed a special committee to enforce the new policy around advertising. Obviously, the committee let Khloé's work with Protein World slip through the cracks.
Whether the outrage will spark change or massive profits for the company remains to be seen!
Citations: This Body-Shaming Ad Featuring Khloé Kardashian Is Pissing People Off (Cosmopolitan)