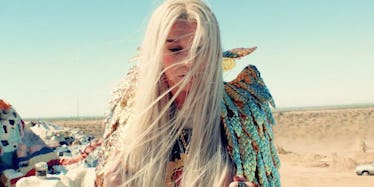 Kesha Dropped Her New Song "Hymn" And The Lyrics Are So, So Beautiful
YouTube
Kesha is KILLING the comeback game. She just dropped her newest single, "Hymn," and Kesha's "Hymn" lyrics are going to make you cry, and dance, and scream, and sing, and did I mention cry? She's only released the audio version of the song, but it does come with a cool animated video. I don't go to church, but this feels like it.
"Hymn" also sounds very Lorde-inspired, and I'm here for it. This is the fourth song we've been blessed with from Kesha's upcoming album, Rainbow, set to release August 11. The pre-sale for the Rainbow Tour starts today, August 3, at 10 a.m. local time, and the tour will have 21 stops, starting in Alabama in September and ending in LA in November. Get your glitter ready, people!!!
Even the stars and the moon don't shine quite like we do Dreamers searchin' for the truth Go on, read about us in the news Pretty reckless, pretty wild Talking shit and we'll just smile Don't you see these f*ckin' crowns? If you know what I mean, you on the team This is a hymn for the hymnless, kids with no religion Yeah, we keep on sinning, yeah, we keep on singing Flying down the highway, backseat of the Hyundai Pull it to the front, let it run, we don't valet Sorry if you're starstruck, blame it on the stardust I know that I'm perfect, even though I'm f*cked up Hymn for the hymnless, don't need no forgiveness 'Cause if there's a heaven, don't care if we get in This is a hymn, hymn, hymn for how we live, live, live This is a hymn, hymn, hymn for how we live, for how we live After all we've been through, no, we won't stand and salute So we just ride, we just cruise Livin' like there's nothing left to lose If we die before we wake, who we are is no mistake This is just the way we're made You know what I mean, you on the team
The chorus repeats two more times, and there wasn't a dry eye in the damn house. To make things even more emotional, Kesha wrote a letter to her fans about "Hymn." Get ready to weep.
She said,
I think that one of the reasons why my music connects with people who feel like they don't fit in is because I have never fit in either — this is why the song "Hymn" is so special to me. The longer title was 'Hymn for the Hymnless.' And when I say 'hymnless,' I'm talking about people who feel like they don't fit in, people who feel like they don't have a hymn. That's how I have always felt myself — there was never one group or scene that was entirely mine. The lyrics are, 'This is a hymn for the hymnless, kids with no religion.' Religion, for me, in this song doesn't mean necessarily religion as in your spiritual belief, but more like kids with no set way of life. I'm still trying to figure out what I believe and what the truth is in my heart, and I know I'm not alone. My mind and opinions keep changing and expanding.
I'M NOT CRYING, YOU'RE CRYING. OK, FINE, WE'RE ALL F*CKING SOBBING. Kesha announced in July that she would be releasing "Hymn" today, August 3, so I'm glad to see she followed through on that. Kesha posted clips of "Hymn" online before its release today to keep fans on their toes. And they loved it before they even heard the entire song.
"THIS IS A HYMN FOR THE HYMNLESS" DIRECTLY TRANSLATES TO "F*CK ME UP, KESHA."