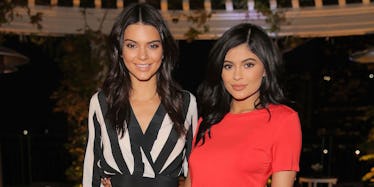 Kendall And Kylie Jenner Crashed A Golden Globes After Party To Eat Pizza
REX/Shutterstock
Life is all about balance.
One week, you're painting your living room wall pink to keep yourself from ever eating again, and the next, you're hoovering DiGiorno while Meryl Streep makes her rounds at a Golden Globes after party.
The Hollywood Foreign Press didn't award either Jenner sister for contributions to the world of entertainment this year, but Kendall and Kylie still made it out of the Globes with two bellies full of complimentary pizza. Respect.
The Olympian offspring likely benefit from some killer genetic metabolism, because according to a post on sister Khloé Kardashian's app, they basically eat the same crap food as us peasants.
KoKo wrote,
People always find it funny that Kenny is on the anti-model diet. She loves burgers and pizza and goes to In-N-Out all the time. Kendall is my go-to girl on cheat day! Kylie eats like a typical teenager, but she's also super aware of what she puts in her body when it comes to fresh and organic foods.
Before you start wandering into traffic over the thought of Kenny and Kylie taco and pizzaing their way through life while still looking like this…
… remember they have access to the best trainers, the most effective shape wear and above all else, their youth.
Hotness is never eternal. Time will rob us of our beauty soon enough, and though sooner for some than others, we will live our final years on earth getting laid for our jokes rather than our butts.
When you think about it, that's the most beautiful twist of all.*
*I'm not sure if this makes sense. I'm still drunk from the Globes.
I butt-chugged a 40 oz with Jeffrey Tambor in the parking lot of the Beverly Hilton and I can't find my phone or most of my hair, so take all of the above with a grain of salt.
Citations: Kendall and Kylie Jenner Went To a Golden Globes After Party And Ate All The Pizza (Cosmopolitan)