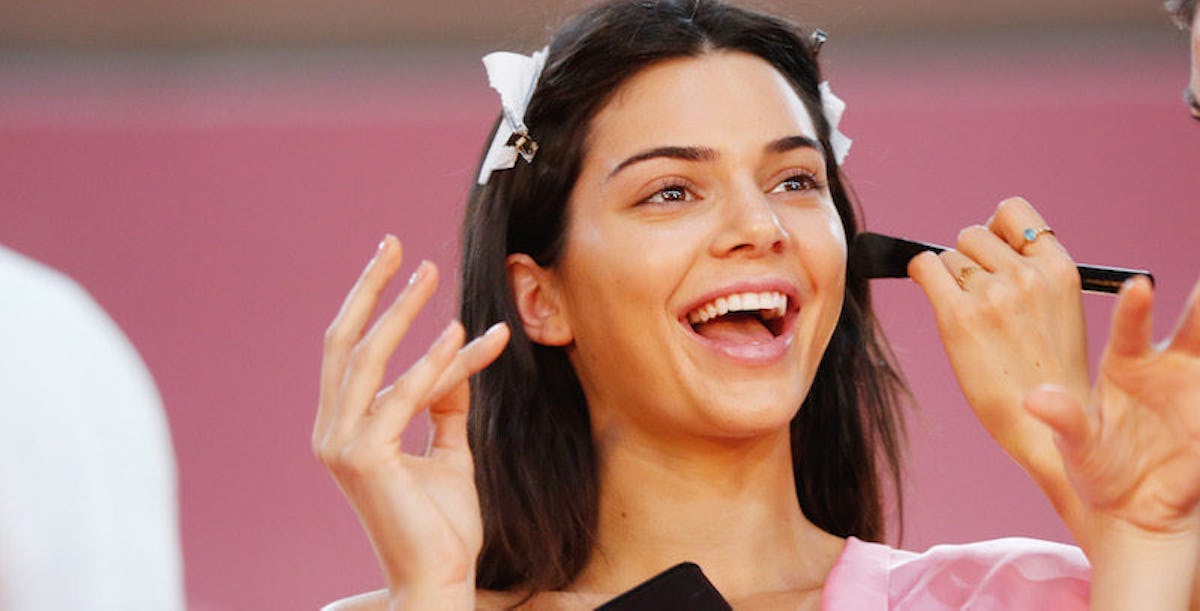 Kendall Jenner Tried Singing A Rihanna Song, Reminded Us Celebs Aren't Perfect
REX/Shutterstock
Kendall Jenner has many talents like modeling, wearing minimal clothing and showing off her nips.
I know, it sounds like the girl does it all, but there's actually an area of expertise the 21-year-old doesn't excel in.
Kendall Jenner sucks at singing.
I'ma say it again. KENDALL JENNER'S SINGING VOICE FUCKING SUCKS.
Man, that felt good to yell.
While backstage at the 2016 Victoria's Secret Fashion Show, Kendall Jenner attempted to sing karaoke with Balmain designer Olivier Rousteing.
The two performed Rihanna's "We Found Love," which has, like, 12 words in the entire song. It's a classic, and Kendall Jenner totally fucked it up.
The girl destroyed it, and not in a good way.
Things started off OK at the beginning. If I was a judge on "The Voice," I wouldn't have turned my seat around... but I would have said, "Thanks for stopping by!" at the end.
Then, toward the middle of the video, the lyrics speed up and things get a bit too high for Kenny J. She tries her best to hit the note, but she just ruptures our eardrums instead.
"WE FOUND LOVE IN A HOPELESS PLACE. WE FOUND LOVE IN A HOPELESSSSSSS PLACE..."
MAKE IT STOP. ENOUGH, ENOUGH.
I'm totally exaggerating. It wasn't horrible, just pretty damn awful.
It's OK, Kendall, this just proves you're human. Wow, so relatable! Celebrities really are just like us!
Hopefully Rihanna hasn't watched Kendall's rendition because I'm not quite sure how she'd feel about it.
Here's another confidence booster for you today: Kendall Jenner's BFF Gigi Hadid sucks at singing as well.
Wow, a double whammy!
Gigi belted out the lyrics to Justin Bieber's "Baby" and it was pretty uncomfortable. She was supposed to give a dramatic reading with Kendall, but she got too into the words.
Uhh, maybe y'all should ditch the microphones and stick with the modeling. Just a suggestion, HAHA LOVE YA <3.
Citations: Kendall Jenner Sining Karaoke (Elle)