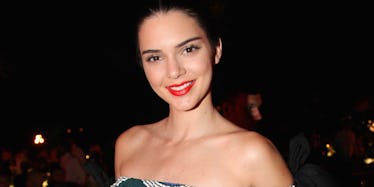 Kendall Jenner Responds To Ballerina Drama: 'It's Not Going To Stop Me'
REX/Shutterstock
Last month, Kendall Jenner flopped across a ballet studio in a pair of pink slippers talking about how much she loves "walking around" for a Vogue España shoot, and ballerinas all over the damn internet requested a formal apology.
The women and men of the ballet world were not about to let Kendall Jenner tarnish the sanctity of an art form that's kept them on their toes since the 15th century.
I am formally requesting an apology from @KendallJenner & @voguemagazine for that weird ballet video. Please stop. — Tori Archer (@victorienka) September 17, 2016
Kendall Jenner what you doin?! That ballet shoot is disgraceful — Karen (@karenabarian) September 24, 2016
Honestly, it's still pretty unclear whether "appropriating ballet culture" is an actual fuck-up worth losing our minds over.
Kendall was "appropriating ballet culture" as much as she was "raising awareness for ballet," but assuming the model's temporary assumption of the ballerina identity for the express purpose of a concept-driven photoshoot is a legitimate issue facing the dance world, Kenny has responded to the backlash.
On her app Thursday, the 20-year-old admitted she doesn't fully comprehend the outrage.
Kenny wrote,
It confuses me how people can get that upset when there are so many important things going on in the world. But, it's obviously not going to stop me from working hard and being me.
It's true. In fact, past appropriation accusations hurled at the Kardashian/Jenner family easily land within the realm of more important things.
People were more pressed about Kendall Jenner abusing the 'ballet culture' than this mess lol I'm out pic.twitter.com/jjHlcx6tHn — humna. (@supzarryx) October 9, 2016
kendall: wears dreads internet: ... k: does a ballet photoshoot internet: THATS NOT HOW YOU RAISE YOIR FEET k: wears a hijab internet: ... — (@nefeIibatta) October 10, 2016
*Kendall Jenner "appropriates" ballet* Everyone: OMG SO OFFENSIVE!!! *Kylie Jenner appropriates black culture* Everyone: ya so let her live — gii (@gii_savoia) September 25, 2016
everyone's freaking out about kendall(?) doing a ballet themed shoot but when kylie strapped into a wheelchair no one said a word — (@queenof_regret) September 22, 2016
*Kylie Jenner wears dreads* White People: ... *Kendall Jenner wears ballet shoes* White People: pic.twitter.com/xv5wSZGNDe — ryn #NoDAPL (@teresaaagnes) September 21, 2016
Though Kendall's response is hardly an apology, leaving the issue open-ended with "it's not going to stop me" is essentially a blood oath promising the public we have years of the Jenner/Kardashian's appropriative faux pas ahead of us.
Let us ration our rage accordingly.
Citations: Kendall Jenner Doesn't Get Why Ballerinas Are So Upset by Her Vogue España Shoot (New York Magazine)