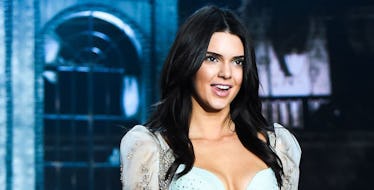 Kendall Jenner Loves Her 'Tits Being Out,' Says It's 'One Of Her Things'
REX/Shutterstock
If you had to describe Kendall Jenner in one word, you might consider using "mercurial."
The 20-year-old has been in the spotlight since first appearing on "Keeping Up with the Kardashians" at the age of 9. Now, you might think such early fame would be a recipe for certain disaster, but for Kendall Jenner, it's been anything but.
Jenner has built herself up into a social media icon and one of the hottest models currently gracing runways, magazine covers and web pages all over the world.
Recently, Kendall Jenner sat down with W magazine to talk about her family's domination of the entertainment game and why she's so in love with her body.
Speaking with W about her plans to take over the world, Jenner said,
My little sister and I are baby bosses. We basically are on our way to rule the world, so you can expect that.
As if we didn't already?
Kendall Jenner opened up about when she first became somewhat obsessed with the idea of modeling, an industry she's currently toppling, saying,
I was, like, 10 when I started thinking models were the coolest people in the world. My favorite model when I was 10 was Gisele. I would definitely like practice a walk that was very bad. I was a tomboy for a couple years, so those years I think I was more into sports. Once I came out of that, I was secretly doing walks in my room and stuff.
The 20-year-old also spoke about her first big opportunity in modeling and how it set her on the road for success. She explained,
My first big break was going to meet Katie Grand at Marc Jacobs, and then I got the Marc Jacobs show. I was so nervous. I didn't think anyone would like me. It's so nerve wracking in front of all those cool people and you go back a couple times and they need to see if they really like you. I got surprised in person that I booked the show. Yeah, my biggest concern was definitely falling. And then my tits were out. I don't know why I wasn't nervous about that. I was really excited about my tits being out, actually.
Jenner continued to talk about her tits, which are impeccable, quipping,
I don't know. I'm weird. I love my tits being out. It's like one of my things, I guess.
Kendall Jenner also spoke about being a "workaholic" and how hard it is to make it in this industry, as well as her early crush on Justin Bieber.
Work it, girl.
Citations: KENDALL JENNER, REVEALED: THE 20-YEAR-OLD MODEL LOVES SHOWING OFF HER BODY (W)