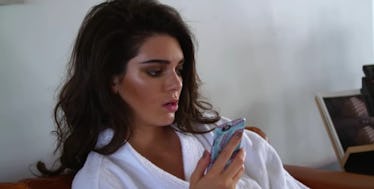 Kendall Jenner Reveals Scary Health Condition: 'I Wake Up And Can't Move'
E!
Something concerning is going on with Kendall Jenner.
In the latest sneak peek of "Keeping Up With The Kardashians," the 20-year-old model warns her family about a scary health condition she's currently facing.
In the episode preview, Kendall explains she wakes up in the middle of the night and is unable to move.
The short clip shows the reality star talking to Kris Jenner on the phone about what happens to her when she sleeps. Her mother responds,
I think you've just got anxiety.
Kendall continues to explain,
Everyone says I'm fine, but I don't feel fine.
Another part of the conversation can be heard in the original trailer for the show's new season.
While sitting on the couch in a white robe, Kendall also tells Kris on the phone,
I'm done arguing with people because I don't feel fine and I promise you one day when I'm rushed to the hospital, then you guys are gonna wake up.
Immediately, Kris cuts off her daughter and yells,
Kendall!
Oh shit.
Back in December 2015, the model actually revealed she was secretly hospitalized for exhaustion while juggling a strenuous schedule.
Kendall shared on her website and app,
I just got so tired from work and life and everything that it freaked me out at the end of this year. I actually had to go to the hospital because I was so exhausted...It was definitely a wake up call that I need to take better care of myself.
Kendall will also be returning to the Victoria's Secret Fashion Show this year in Paris, so her modeling schedule may be just as busy as last year's... or even worse.
It's still unclear what's going on with Kendall's health at the moment, but according to the previews, the Kardashians should be taking her cries for help seriously.
Be sure to check out Sunday night's episode of "Keeping Up With The Kardashians" to find out what's really going down.
Citations: Kendall Jenner Hospitalized (ET Online), Kendall Jenner Health Concern (E Online)