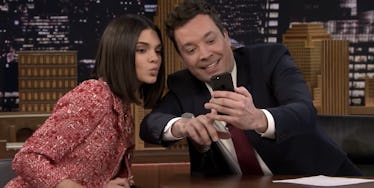 Kendall Jenner Acts Out Britney Spears Song, Proves She's The Worst At Charades
YouTube
Kendall Jenner played charades while wearing a Chanel suit on "The Tonight Show" the same night I had a handful of wasabi peas for dinner because I decided to take a taxi home the night before and that threw off my budget for the week.
She did this because that's what you do when you're a fame-o. You get super dressed up and go talk to Jimmy Fallon  on the "Tonight Show" couch about the time you spilled spinach dip on your blouse at the Tony Awards in front of Judi Dench and the kids from "Stranger Things."
Last night's trip to "TTSSJF" focused primarily on the concept of taking pictures. After talking about how Kendall recently got into photography, Fallon took out a picture she took of North, before getting a selfie with the 21-year-old supermodel and social media staple.
OK, sooooooo Kendall apparently is just like every other person who lists "photography" as something they do in their Tinder profiles.
When describing the concept of picture taking, she said,
I love capturing a moment or being very candid and just like, capturing all my friends and hanging out. I think it's a lot more authentic to capture a photo just on film, and I have a whole folder in my phone of the photos.
Later on, Kendall got to play some celebrity charades against Charlie Day with Jimmy as her teammate.
A few things:
1) Higgins is miserable at this game.
2) There are four words in "Kiss From A Rose."
3) Jimmy Fallon is GREAT at charades.
4) Kendall Jenner is miserable at this game.
This appearance is a lot better than some of her other appearances she's made recently, though.
While on "Jimmy Kimmel Live!" a couple months ago, Kenny found out that when she moved into her new mansion, the entire block hated it.
What's more is they all went to Jimmy to see if he could somehow "fix" the situation.
During the interview, Kimmel told Kendall,
Our neighbors were up in arms when you moved onto the block. There was a whole thing with emails that went on... The neighbors all seem to be blaming me for this development… I'm the captain of the neighborhood watch.
Oh, Kenny.
Citations: Here Is Kendall Jenner Playing Charades in a Chanel Suit, Because Life Can Be Grand Like That (Cosmopolitan)