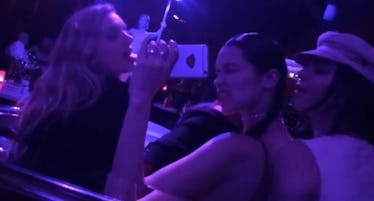 Kendall Jenner and Bella Hadid Partied At A Strip Club And The Pics Are Wild
Instagram
Kendall Jenner took Bella Hadid to a strip club, because where else do you take your BFF when her ex is dating Selena Gomez?
On Wednesday night, Kendall and Bella joined Hailey Baldwin for a ladies' night out — and by ladies' night out, I mean ladies had their boobs out.
Yep, the three famous friends went to Pink Paradise, a strip club in Paris, France, according to a report from TMZ. (And also according to this picture of them all posing in front of a stripper pole.)
Bella wore a low-cut red jumpsuit, Kendall went with a white top and matching hat and Hailey rocked a green tube top.
If you're not familiar with the Pink Paradise, because you're not Parisian or gross, it seems to be a pretty standard, straight-forward, woman-dance-on-poles-and-slowly-remove-their-underwear type of deal.
That's not exactly the type of hangout I'd think Bella, Kendall and Hailey frequent, but hey, try everything once, I guess.
The entire night was documented on Bella's and Hailey's Instagram stories, and let me tell you, I have never seen a strip club look so fun.
It looks like the ladies got front row seats for the show.
Hailey really seemed to be getting in the ~spirit~ of the night.
Bella was getting down and dirty on the dance floor.
Apparently strip clubs have dance floors that aren't the stage. Who knew? The movies don't teach me these things.
And lots and lots of selfies were taken.
No one actually stripped...except for Hailey, who totally did.
Later in the night, Hailey posted a photo of herself totally topless, lying across the lap of Cindy Crawford's son, Presley Gerber. She captioned it with the hashtag "#sorrymom."
I guess Hailey must have gotten a few dance lessons at Pink Paradise. Don't ever let anyone say clubbing isn't beneficial!
Look, I'm not judging the ladies for letting off a little steam at an adult institution. Especially Bella. Homegirl's ex-boyfriend just took a romantic vacay with his new girlfriend.
If that's not grounds for a strip club, I don't know what is.
Citations: BELLA HADID & KENDALL JENNER DANS LE CLUB DE STRIPTEASE ... Zut Alors! (TMZ)