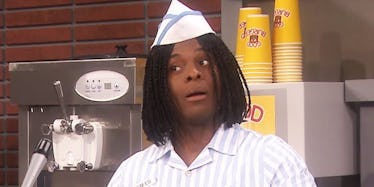 Kel Mitchell Announced His Wife's Bun In The Oven With 'Good Burger'-Themed Pic
NBC
Is it true? Kel Mitchell announced he was having a baby with a "Good Burger" photo shoot?
Oh yes, oh yes, oh yes: It's true.
Yep, the 38-year-old actor, known for "Kenan & Kel" and, of course, "Good Burger," posted this photo with his wife, Asia Lee, on Instagram on Tuesday.
In the caption, Kel wrote,
We have a bun in the oven! thank you @therealasialee for being the best Wife to me the best Friend to me and now the best Mom to our blessed baby!! I love you so much!
He also added the hashtag "special delivery," which is just delightful.
Like, Kel Mitchell planned and organized this. He found somebody to take this picture. He found those hats. He bought that burger and orange soda.
Who loves orange soda? Kel's unborn child loves orange soda, probably!
Let it never be said that Kel isn't dedicated to his fans.
"Good Burger" will turn 20 this year, but this isn't the first time Kel's put on the cashier hat since 1997.
In 2015, Kel and Kenan Thompson reunited for the first time in many years on "The Tonight Show Starring Jimmy Fallon" for an old-fashioned "Good Burger" sketch.
In past interviews, Kel's said he'd be down for a "Good Burger" sequel — and clearly he's not exactly shying away from his past as Ed the manager.
In an interview on the "Brown and Scoop" podcast in 2016, Kel said,
Me and Kenan have definitely been talking about it. You might definitely see something coming up with me and him soon. We have definitely been talking about doing something big for the fans, because everybody has been looking for it. They want us back together.
C'mon, Kenan! Just let us have the "Good Burger" sequel! Kel wants this! His wife wants this! His unborn child wants this!
And most importantly, I want this.
Let's make "Good-er Burger" happen.
Citations: Kel Of 'Kenan & Kel' Found A 'Good' Way To Announce His Wife's Pregnancy (UPROXX)