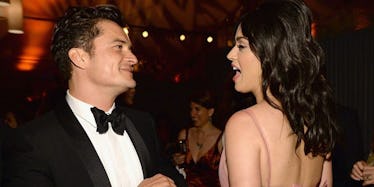 Katy Perry And Orlando Bloom Pack On The PDA At Ed Sheeran Concert Months After Split
Kevin Mazur/Getty Images
It's been six whole months since Katy Perry and Orlando Bloom announced their split, but apparently, their breakup didn't mean very much. The celebrity duo was spotted canoodling at the Staples Center on Saturday, Aug. 12, and Perry and Bloom were reportedly really displaying their PDA. Does holding hands mean as much as it once did? I think so. So, does this mean Katy Perry and Orlando Bloom are dating again? I friggin' hope so! Katy Perry and Orando Bloom need this! They've been through enough heartbreak.
Elite Daily reached out to Perry and Bloom's teams for comment on their relationship status, but did not hear back in time of publication.
An eyewitness told Entertainment Tonight that Perry and Bloom were flirting it up. The witness said,
Orlando put his arm around Katy's waist several times, and at one point, she sat on his lap. Orlando seemed to be having a great time and really seemed to enjoy the concert, even dancing at one point. Katy was more laid back and seemed to just be listening and taking it all in.
Perry and Bloom were also caught walking hand in hand through the crowded concert, and obviously, someone caught it on camera. Come on, you guys. It's like they were trying to showcase their romance. That's fine with me.
The two ended their relationship In February 2017 after being together for 10 months. However, people at the concert claim they saw the two kissing and holding hands. Fans couldn't stop talking about the PDA on Twitter.
Perry and Bloom confirmed their breakup in a statement to People Magazine at the time of their split, after being spotted at the annual Vanity Fair Oscars Party. The statement read,
Before rumors or falsifications get out of hand, we can confirm that Orlando and Katy are taking respectful, loving space at this time.
We are all hoping and praying Perry and Bloom are dating again because they are adorable, and they just go together.  Baby, she's a firework, and he's going to hear her roar over him.... hopefully.