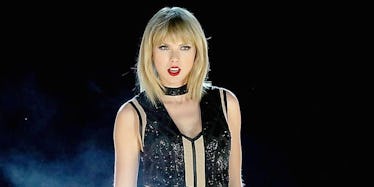 The Host Of The 2017 VMAs Was Announced, And It Might Mean Drama For Taylor Swift
Getty Images
Earlier this week, the categories and nominees went out for the 2017 MTV Video Music Awards. Now that we know who might win, fans have been left wondering, "Hey, who is going to be the host?" Drum roll please... Katy Perry will host the 2017 VMAs!!! Sorry, Taylor Swift.
Fans can tune into MTV on Sunday, August 27, at 8:00 p.m. and literally watch the celebrities roll in on the red carpet. Now that we know Perry is running the show, we can only guess what kind of fashion and outfits to expect from the Witness star.
Perry has been on a PR kick lately, working to connect with her audience via her 72-hour Witness live feed, getting candid with James Corden in "Carpool Karaoke," and more recently, trying to forgive and forget her feud with frenemy, T-Swift.
Sure, because that's how these things work.
All of that being said, the new cropped-cut Katy does seem to have a lot more charisma and personality than her early-career self. Today, she is much more vocal, opinionated, and open when compared to back in the day when it was nothing but purple wigs and candy cane boobs.
Part of me hopes she leaves Taylor Swift out of her speeches, and then there's the other part of me that is like, "Wait a minute, I love drama. GIVE ME THEM T-SWIFT BURNS, KAY-KAY!"
As recent at July 19, Perry told Australia's Today show,
I mean, I love her, I always have. We've had our differences, but I just continue to say, 'God bless her on her journey.'
Sure, you continue to say that, Katy. You continued to say that when you literally wrote the song "Swish Swish" about her.
Still, we're excited to see what other punches Katy packs, and any other special surprises, performances, drama, and FASHION the night brings.
Tune in Sunday, August 27, at 8:00 p.m. on MTV. Swish swish.