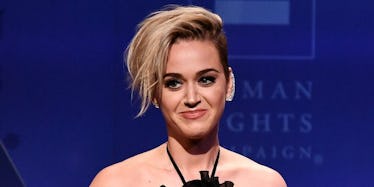 Katy Perry Posted This Hot Pic Of Herself On Instagram For The Funniest Reason
REX/Shutterstock
Even people way hotter and more famous than the rest of us feel like gutter children sometimes.
Need proof? Of course you do, you skeptical bitch. And I respect that, so I have some.
After sharing a series of relatablecore posts on Instagram, Katy Perry Googled "katy perry hot" for a quick reminder she's got the good boobies or whatever society wants women to look like these days.
It's hard to keep up, and I have the boobs of a chubby seventh grade boy, so.
Prior to posting her Rolling Stone throwback, Katy treated fans to a throwback from 199-goddamn-9.
AND a slideshow of face massage pics in which she looks radiant, frankly.
The "Chained to the Rhythm" singer got some unintentional press last week when her ex, John Mayer, told the New York Times his new song, "Still Feel Like Your Man," was penned with her in mind.
He said,
Who else would I be thinking about? And by the way, it's a testament to the fact that I have not dated a lot of people in the last five, six years. That was my only relationship. So it's like, give me this, people.
What a very John Mayer perspective of one's personal achievements.
The Grammy winner reflected on their time together, adding,
There were times when tears came out of me, and I went, OK, John, this is not about an on-again, off-again relationship. This is something more profound.
OK, well, it's over now. Katy is very busy. She does not have time to listen to your song or come get her shampoo from your house (throw it out, man).
She has to Google hot pics of herself and hike with Hillary. This just isn't a good time.
Please consider joining a Zog Sports league or getting really into your local Escape the Room scene.
It's over.
Citations: Katy Perry Searches For 'Hot' Picture of Herself After Admitting Insecurity Over Recent Posts (ET)