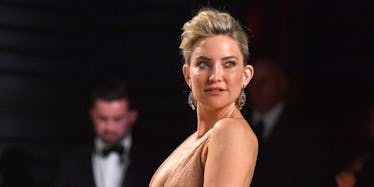 Kate Hudson Completely Changed Her Look Again After Shaving Her Head - PHOTOS
Pascal Le Segretain/Getty Images
I #girlcrush on Kate Hudson all day, every day, especially the day she shaved her head, which was recently. The Fabletics mogul and A-list actress cut it all off for a secret project with singer Sia. Now, just days after the big crop, photos of Kate Hudson wearing a wig have popped up and we're all like, "Girl, we can't keep up!"
So far, we know the project is titled Sister and is directed by Sia, but beyond that, fans have questions: When? What? Why? Who else? Kate Hudson shared the photo of her new crop with the caption, "Freedom. Compliments of @siathisisacting #OurBeautifulDirector." Sia also shared the image, calling Hudson a delight.
Duh, she's a delight. Her mom is Goldie Freaking Hawn. What do you expect, Sia?!
Hudson is one of those humans who can rock any outfit she damn well pleases, and if that means throwing on a blonde wig, straw fedora hat, and fringe boots merely days after announcing to the world you have a perfectly shaped head, then so be it.
She was spotted rocking this ensemble while leaving the set of Sister on Monday, July 31.
It makes sense that Hudson might be picking up on the wig trend. I mean, she is sort of hanging out with the queen of wigs, after all.
Sia is famous for never showing the public her natural hair – or really her face, for that matter – and is recognized most easily in her half-black, half-white, blunt bob faux 'do. She joked once on The Ellen Show,
Well it's just so that I can go to Target and buy a hose if I want to, or if I find I'm in need of a restroom, I can go on the side of the road and no one would be following me with a camera trying to get a shot.
What wisdom! What grace! Kate and Sia, please let me come over and try on all your wigs! I love you!