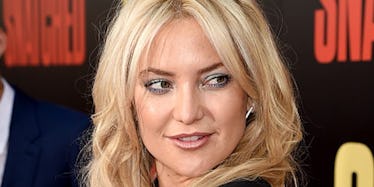 Kate Hudson Completely Shaved Her Head And Looks Unrecognizable In New Pics
Kevin Winter/Getty Images
For everybody riding on the buzz cut bandwagon, prepare to add a new member because Kate Hudson just shaved her head and it looks really, REALLY freakin' cool! The actress was spotted with her new hairdo on July 26 in Los Angeles.
The actress is reportedly doing a secret project with the singer Sia. What is the secret project? When can I see it? What do I do with my hands?
The Oscar-nominated actress looks phenomenal with her new bare head. Shaved heads are in and long hair is definitely out.
Going buzzed is apparently the new buzz (get it?) in Tinseltown, with Kristen Stewart, Cara Delevingne, and Halsey all going for the short, short cut. I'm digging the new 'do, ladies. Do you!
Kate Hudson is known for her various different hairstyles. She's gone from long, luxurious blonde locks in How to Lose a Guy in 10 Days, to her bouncy, curled hair in Almost Famous, to a chic 1960's up-do in Nine. Hudson has even rocked the top knot a bunch of times in her personal life. She's done it all.
As far as Sia goes, she's definitely in the habit of using A-list celebs in her projects. Remember Kristen Wiig's sensational dance number to Sia's hit single "Chandelier" at the 2015 Grammy Awards, rocking the infamous blonde bob? What about the performance with Lena Dunham on Late Night With Seth Myers? That was definitely a spectacularly weird performance. Sia doesn't shy away from celeb power or hair power. That's for sure.
So, will Kate Hudson keep the buzz, or do you think she'll bob it up Sia style? Who really knows for sure. Hudson and Sia are taking Hollywood by storm with one buzzed haircut at a time and I'm not mad about it. Get it girls.