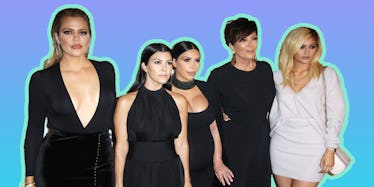 What Each Kardashian Family Member Would Do If 'KUWTK' Ended
REX/Shutterstock
Let's take a moment to explore an alternate Kardashian dimension.
Earlier this week, Kourtney Kardashian made an offhand remark about how she could be happy if her family's show ended, telling reporters,
I don't want the show to end, but I sometimes think I would be so happy if it did, and I could just move away from it all. By the end of every season I've had enough, but then once we've had a break, I'm ready for more.
Obviously, that show will never end. It has the staying power of the Constitution at this point. A TV Guide without "Keeping Up with the Kardashians" on the docket is like Kylie Jenner without Snapchat -- completely pointless.
But what if it did end? Actually, more to the point, what if "KUWTK" never took off to begin with? Let's say the Kardashian mishpucha never appealed to TV viewers, and after one season, the network decided to pull a "Daisy of Love" and end it.
Where would the family be now?
I know that's a bit of a mind-fuck of a scenario and involves a lot of logical leaps -- most notably the logical leap of the Kardashians NOT being industry shaking entertainment dynamos -- but bear with me for a hawt sec.
This was a normal family on a normal life trajectory before the show started. They obviously had more money and connections than 99.9 percent of other American families, but that rarely equates to the level of fame and power they have.
Think of this post as Kardashian fan fiction or just simply an alternate universe. Let's take a look at America's most famous family and hypothesize what it would be like if they never achieved the level of success they currently claim.
It's like when Marvel did that "House of M" series where Scarlet Witch made there be "no more mutants." (I'd be utterly SHOCKED if anyone reading this article got that reference. If you did, please immediately tweet me because I want to meet you and give you straight up money).
Kourtney Kardashian: mother to at least eight kids
Kourt is a mom, and I'm convinced a really good one at that. I think she'd have a shit-ton more kids, hopefully only a few with Scott.
I think she settles down at some point with some lovable comedic actor who had a drug history but has been sober for 15 years.
Khloé Kardashian: boot camp queen with her own celeb fitness show
I think Khloé would land on her feet more than her other sisters. I think she would get healthier, turn herself into a brick muscle factory and serve as an inspiration to thousands.
Down the line, she gets her own fitness show where she rehabs overweight celebs. Think of her as Jillian Michaels, but tolerable and funny. With all of that comes book deals, workout DVDs, a YouTube series, a TED Talk, etc.
Kim Kardashian: literally zero change
Kim would still marry Kanye. I think they'd have a few babies, naming two of them Saint and North.
Kanye's music career continues to skyrocket. She has a good life with zero changes, except a smaller Instagram following and she isn't in "M.I.L.F. Money."
Kendall Jenner: leans hard into Taylor's squad
Kendall would still get that modeling career going. Obviously, she wouldn't rise to prominence as quickly or as bafflingly high as in reality, but she'd still make a solid dent in the modeling world.
I think Kendall abandons Kim during the Taylor-Kimye beef wayyyyy before the Snapchat *mic drop* a few weeks ago and doubles down on her hatred of her family. She abandons the klan in public but remains part of the family in private.
Kylie Jenner: failed singing career
RIGHT??!?!? One of these sisters has to have a failed singing career, and without a doubt, it's gonna be Kylie. It is already rumored Kylie sang the music for her Lip Kit's video, so she at least has that music bug in her. A failed album and then middling acting career later, Kylie would then head back into obscurity.
Lip Kits, Kyshadow and Balmain x H&M never happen. She does, however, open a kill-shelter for dogs. I low-key thinks she hates dogs.
Kris Jenner: head of the UN
People think I'm crazy for suggesting this, but I'm convinced Kris Jenner is a genius. Like a low-key manipulative, Claire Underwood-esque genius.
I'm convinced the Kardashian's level of success is because she puppet-masters that family, and it's effing breathtaking if you think about it. If the family's show didn't hit, then Kris would set her sights higher, partially out of a need to avenge her own personal loss from the show failing.
I think she befriends some people in the world court and eventually becomes the head of the UN. A week after she does this, Israelis and Palestinians cover their beef, Africa fixes its water crisis and America starts getting into soccer.
Caitlyn Jenner: def not Bruce'n
I think Caitlyn would become Caitlyn still, but on a lower publicity scale. The coverage of her life's decisions would mostly become relevant around Olympics time and Olympics time only, much like swimming stats and the rules of curling.
She lives a quieter life, still advocating for progressive equality. Somehow, she still justifies voting for Trump in 2016 (he loses in a landslide). She still gets to meet Peyton Manning, though.
Rob Kardashian: probably a yoga teacher?
Rob Kardashian is not meant for fame. This isn't a hot take or anything, this is a widely known fact. He's the family shut-in with a ton of mental problems that are impossible to fully address when your last name is the most Googled thing on the web sans the word "boobs."
When the show fails, he goes through a normal addict roller coaster. He gets into the party scene, abuses stuff he shouldn't be abusing, gets to a point where his family steps in and then spends some time in a rehab center. He comes out clean, finds his center and then I'm thinking becomes some sort of yoga teacher or life coach.
Maybe one of those coaches at an inner-city school where he gets to yell stuff like, "CHARLES! YOU BETTER GET USED TO HAVING SOMEONE NOT QUIT ON YOU BECAUSE I AIN'T LEAVING!"
Blac Chyna: happily married to Tyga
Yeahhhhhhhhh, sorry for this one, but I'm convinced Tyga and Blac Chyna would remain together. They have a kid together, and if Rob isn't there for Angela to get ideas about, I think they'd remain together.
They go on to have three kids in addition to King Cairo: Duke Atlantis, Bishop Athens and Pippa Middleton (not to be confused with the other Pippa Middleton).