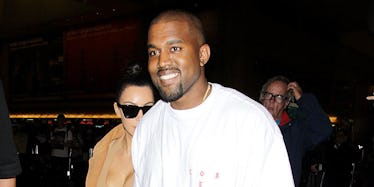 Kanye West's First Instagram Post From 'Total Recall' Is Cryptic AF
REX/Shutterstock
Kanye West, we have questions.
I mean, we have SO MANY questions about every aspect of your life, but, for today, let's focus on your Instagram.
Yeezy launched an official account over the weekend.
Obviously, it got hundreds of thousands of follows overnight but had zero photos — until now.
The rapper dropped his first picture and, to be honest, it's really hard to get excited about because it's confusing AF.
It appears to be a scene from the 1990 film "Total Recall" with Arnold Schwarzenegger.
In it, Arny wakes up in the back of a "Johnny Cab" with a robotic driver. Here are some clips:
It still leaves an awful lot to the imagination.
Kanye didn't caption the pic, but, of course, it's garnered around 100,000 likes, which is sure to climb.
The only relevant link we can gather from this is Arny celebrating 33 years of American citizenship today.
He posted an Insta photo of him in all-USA garb with the caption,
I was born in Austria, but made in America. Get the shirts now at the link in my bio to help support the CA Fire Foundation. Oh, and if you get the sweatshirt, you get this special hat to spread our fitness crusade.
I'm 100 percent buying that headpiece.
Citations: Daily Mail