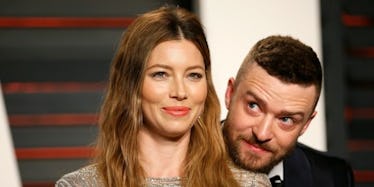 Justin Timberlake Had A Savage Response To Jessica Biel's Pregnancy Prank
REUTERS
Jessica Biel and Ellen DeGeneres tried their darnedest to punk the crap out of Justin Timberlake, but they learned the hard way you just can't hustle the hustler.
Biel joined the set of "The Ellen DeGeneres Show" Monday to talk about what's currently going on in her life, and eventually, the two got to talking about Biel's night out at a recent Los Angeles Lakers game.
I don't know if you've seen pictures from Biel's evening out at the Staples Center, but she, uh, was certainly in the dancing mood with husband Justin Timberlake.
See, I told you they really broke it down!
Apparently, there was also a moment at the Lakers game when Justin Timberlake put his hands on Jessica Biel's belly, and everyone immediately came to the same conclusion/started spreading the same rumor: Jessica Biel is pregnant.
So, going off those rumors, Ellen DeGeneres and Jessica Biel tried to prank Justin Timberlake by calling him and informing him of the good "news."
Well, JT wasn't buying it, and he had the most savage and perfect response after hearing he had another child on the way.
Take a listen...
As you can hear in the video above, Ellen DeGeneres said,
Hello, Justin? It's Ellen. What are you doing?
She continued,
I'm here with your lovely wife, and we just wanted to call and say, 'Hey.'
DeGeneres then asked Justin what he was doing, to which the "Cry Me a River" singer replied,
We are currently making sweet potato fries for the king of the house.
Timberlake was referring to his and Biel's 1-year-old son, Silas, and DeGeneres jumped on the opportunity to try and prank JT into thinking Jessica Biel was pregnant.
The host said,
Guess what? Not only is there going to be a king of the house... there's going to be a queen of the house. We're here to tell you.
Biel, ever the good sport, chimed in,
Surprise!
Justin Timberlake gave a pretty reserved response to the pregnancy news, which prompted Ellen to ask why he wasn't more "excited."
JT responded,
I can't wait to find out whose it is.
Boom. Mic drop.
Citations: Justin Timberlake Gives the Perfect Reaction to Jessica Biel's Fake Pregnancy News on The Ellen DeGeneres Show (E! News)