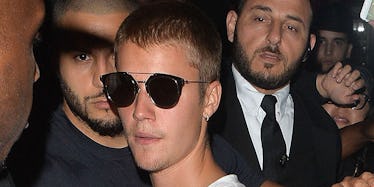 Justin Bieber Was With Yet Another Girl, And She Looks Like Sofia Ritchie
Rex/shutterstock
Justin Bieber was out with a different girl, again.
The 22-year-old pop star was seen leaving Tape nightclub in London with a "mystery blonde" who looks an awful lot like his most recent love interest, Sofia Richie.
Justin was photographed with the tall blonde outside the nightclub, where the pair tried, unsuccessfully, to avoid paparazzi.
Justin's night out happened just a couple days after a People cited a source that told the publication Justin and Sofia Richie were on a "love-fest."
The source was quoted as saying,
Sofia and Justin are basically on a love-fest right now, but it's virtually impossible where he's at in his life and career for anything to last with these girls.
As the quote suggested, it looks like that "love-fest" indeed did not last, because while Justin was in London, Sofia was reportedly in Los Angeles, having what looked like a pretty casual night... if Instagram is any indication.
Meanwhile, on the other side of the pond, Bieber and his new friend tried their best to stay out of the paps' camera flashes.
And the irony of Bieber's night in London is obvious, too.
It was just last weekend that the singer started an all-out war between his fans and got caught in a feud with Selena Gomez, all over a series of pictures he took with Sofia Richie.
In one of the pictures, he wrote a caption that read,
I'm gonna make my Instagram private if you guys don't stop the hate this is getting out of hand, if you guys are really fans you wouldn't be so mean to people that I like.
But even if Bieber nuked his IG, that hasn't stopped others from posting pictures of him, particularly when he has yet another girl at his side.
By now, JB's motto is clear: on to the next one.
Citations: Daily Mail