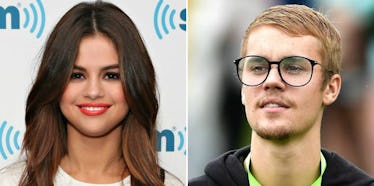 Justin Bieber Dropped "Friends" And Everyone Thinks It's About Selena Gomez
Cindy Ord/Getty Images Stuart Franklin/Getty Images
Justin Bieber's break from music is totally happening, guys! He's not putting out any music because he canceled his Purpose Tour! Hahaha, just kidding. He totally just dropped a new song. Justin Bieber just dropped "Friends," his newest collaboration with the musician BloodPop, and it's honestly a jam. Did we expect anything else? Bieber is the king of singles. But just a quick scroll through the "Friends" lyrics reveals some... interesting things. Guys, hear me out: Is "Friends" About Selena Gomez?
Fans certainly seem to think so! The "Friends" lyrics seem to talk about a relationship failing, and one party of said relationship hoping that they can remain friends afterwards. Now, Bieber has had other exes ever since his breakup with Gomez, but because the internet doesn't want this connection to die, people are theorizing that Justin Bieber's "Friends" is about Selena Gomez. (As if he can't sing a song without having any emotional connection to it... but I digress.)
These are the lyrics that are making fans believe "Friends" is about Gomez:
Do you wonder why I've been callin'? Like I've got ulterior motives No, we didn't end this so good But you know we had something so good So I'm wonderin' Can we still be friends? (oh) Can we still be friends? (oh) Doesn't have to end And if it ends, can we be friends? Can we be friends? Can we be friends?
OK, fine. I guess I can see where fans would think that these lyrics could be a nod at Selena Gomez. But it could be a nod to literally any of his exes. It's time to let this Biebs/Gomez thing go, people. They've moved onnnn. Let them make music without you assuming it's all about their literal high school relationship.
Anyway, here's what fans are saying about the "Friends" lyrics and how they want them to be about Gomez:
It's probably not that deep, fam. You can listen to Justin Bieber's "Friends" on Spotify now.