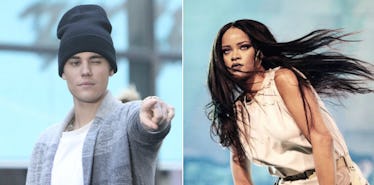 Justin Bieber And Rihanna Are Headlining A Huge Festival This Weekend
REX/Shutterstock
Hey Beliebers, cheer up! Justin Bieber may not have Instagram anymore, but he's headlining a huge festival this weekend to make up for it.
Yup, the Biebs will be taking the Virgin Media Stage at V Festival, which is taking place at Hylands Park in Chelmsford on August 20 and at Weston Park in Staffordshire on the 21.
Rihanna will be headlining, too, you guys, so if there's a festival you need to see, it's this one.
It looks like a lot of other big names will be in attendance, according to the festival's lineup. I'm talking Sia, David Guetta, Mike Posner and DNCE.
I've never attended V Festival before, but the pics on Instagram make it look legendary.
V Festival has been held every August since 1996, and I hear it never disappoints.
Rihanna's last V Festival performance was actually five years ago, so it's pretty exciting she's returning to the stage.
It's a huge honor, so this may be your last chance to see Rihanna before her epic VMAs performance.
I suggest you check out the official V Festival website to book your tickets. Get them fast before they sell out!
Justin Bieber and Rihanna, I'm coming for you.