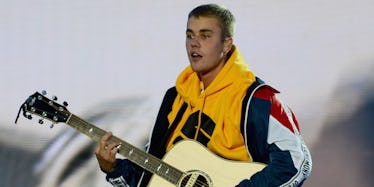 If You Bought A Ticket To Justin Bieber's Tour, Here's How To Get Your Money Back
Getty Images/Dave Hogan for One Love Manchester
On July 24, Justin Bieber announced he canceled the remaining 15 shows of his Purpose World Tour. If you bought a ticket to one of these canceled shows, you're probably wondering, how do I get my money back from Justin Bieber's canceled Purpose tour?
A rep from Justin Bieber's team sent the following statement to Elite Daily,
Due to unforeseen circumstances, Justin Bieber will cancel the remainder of the Purpose World Tour concerts.  Justin loves his fans and hates to disappoint them. He thanks his fans for the incredible experience of the Purpose World Tour over last 18 months. He is grateful and honored to have shared that experience with his cast and crew for over 150 successful shows across 6 continents during this run. However, after careful consideration he has decided he will not be performing any further dates. Tickets will be refunded at point of purchase.
Basically, wherever you bought the ticket will return your money. Different venues and websites have different policies on how they go about returning money.
If you ordered off Ticketmaster, you do not need to do anything. According to their website,
If you bought tickets online or over the phone, you won't need to do a thing. We'll let you know the event is canceled and automatically refund your order (except UPS fees) to the same card used to purchase. All refunds should be received with 7-10 days after we learn the event is canceled.
Easy, right? However, if you ordered through the venue, you may have a few more steps.
For example, Sports Authority Field in Denver said that tickets purchased at the stadium box office can be refunded at the box office. Unfortunately, the stadium is "unable to refund any tickets other than those purchased in person at the box office."
Check the policy of where you bought the tickets for full steps, and be sure to have the credit card you used to purchase the tickets on hand.
Fans are still reeling about Justin Bieber's tour dates being canceled.
It's OK to not be OK.
However, fans are rallying for Bieber and showing their support.
Whatever is going on with Justin Bieber, I hope he gets some much needed rest. After performing over 150 shows all over the world, anyone would need a break.