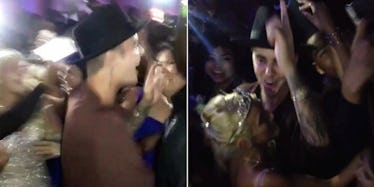 Justin Bieber Showed Up At A Prom And Everyone Freaked The F*ck Out
Twitter
You can probably guess what happens when you throw Justin Bieber in a room with a gaggle of teenage girls. In case you couldn't figure it out, people lose their freaking minds.
That's what happened this past weekend when Bieber decided to crash a high school prom in California.
Bieber showed up unannounced to the Chatsworth Charter High School prom. Apparently, he was recording in a nearby studio.
When the Biebs arrived, people went bonkers, and the prom was taken to the next level. You can see the chaos below.
THANK YOU @justinbieber FOR THE BEST PROM pic.twitter.com/FyUXQlrR60 — steph (@stephh_arthur) April 26, 2015
No other prom will ever be as turnt as #ChatsworthProm2k15 !! Did @justinbieber go to your prom ?? pic.twitter.com/2lP3rPtbi4 — Jigo Garcia (@jigogarcia) April 26, 2015
I DANCED WITH @justinbieber AT MY PROM pic.twitter.com/Rhxk4vApBX — Princess Potato (@ashleeyybrooke) April 26, 2015
Can I dance w Justin Bieber at my prom pls pic.twitter.com/it7Aq9SiVr — (@Rauhlxpromise) April 26, 2015
@justinbieber thanks for showing up to my Prom pic.twitter.com/Dy9ISYFow4 — Hermain Mariano (@hermainmariano4) April 26, 2015
Citations: Justin Bieber crashes high school prom and causes absolute mayhem (Metro)