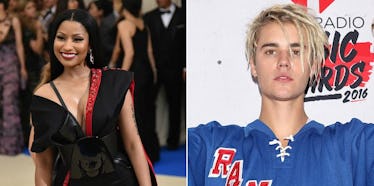 16 Celebrities Who Had A Blast This Memorial Day Weekend— PHOTOS
Getty Images
Memorial Day weekend is the few days we set aside to honor all of the veterans who have passed and most of us try to do so with as much fun involved as possible. A great group of family and friends is usually the primary ingredient you need to have an incredibly awesome time.
Some of our favorite celebrities are basically spending Memorial Day weekend the way we are—account balance differences aside, of course. There are lots of parties, pool days and...bro-biking? Yes!
Here are a few photos of celebs having ALL of the fun this holiday.
1. Nicki minaj headed to Miami to host a party at Club Liv.
Of course, you can't go to any club and not rap-sing your own song like a total boss.
2. Bella Hadid took a helicopter ride during her trip to Monte Carlo.
Hadid was there for the Monaco Grand Prix, the celebrity-filled automobile race held every year.
3. Hilary Swank danced like no one was watching.
She and the iconic Law & Order actress, Mariska Hargitay, looked like they had an awesome time during their Memorial Day weekend in the Hamptons.
4. Selena Gomez snuggled with a dog named Freddy.
No word on whether or not she spent her weekend with The Weeknd, but she did seem to enjoy snuggling with this cuddly dog.
5. Serena Williams and her fiancé, Alexis Ohanian, also went to Monte Carlo.
Bella Hadid wasn't the only one trying to catch a fast ride this weekend.
The tennis star, her bae, and her baby bump seemed to have a full weekend at the big race. They went on a boat ride and took photos with a few of the drivers.
6. Alessandra Ambrosia had a beach day with friends, including fellow Brazilian Model, Ludi Delfino.
The girls decided to go to the beach—and topless.
7. Vanessa Hudgens had a boozy day by the pool with her girls.
Fine wine and a squad in killer swimsuits sounds like the perfect Memorial Day weekend to me.
8. John Krasinski and Chris Pratt celebrated the true meaning of Memorial Day with the Murph Challenge.
The actors did the Murph Challenge, a fundraiser led annually by the LT. Michael P. Murphy Memorial Scholarship Foundation in honor of LT. Murphy, who died while trying to save his teammates.
9. Chanel Iman cozied up to her bae by the pool in Miami.
The model opted to lounge with her Giants football player boyfriend, Sterling Shepard. The night before, she went dancing, so yeah, this is the perfect way to relax after so much activity. Swoon!
10. Neil Patrick Harris celebrated with his son at the Yankees' game!
What a sweet father-son outing!
11. Karrueche danced it up at a pool party.
Later that night, the Claws actress hit the club for more turn-up with her bestie, Christina Milian.
12. Iggy Azalea went horseback riding.
It looks so freaking peaceful.
13. Justin Timberlake went bro-biking in the Hamptons with Jimmy Fallon.
Yes, people. "Bro-biking" is a thing and it's the coolest thing when Justin Timberlake and Jimmy Fallon are doing it while screaming in the middle of the street.
14. Oprah and Stedman celebrated a loved one's graduation.
Is it bad that the first thing this moment makes me think of is just how much money Oprah probably slid into this young lady's graduation card?
Congratulations, sister!
15. Justin Bieber kept it low-key with friends.
He didn't leave any details about exactly how he spent the bro-time, but their smiles say they enjoyed it.
16. Sofia Vergara had a Memorial Day weekend party.
Whatever went down at the "Paraiso Tropical partyyyyy" on Sunday definitely involved those coconuts.