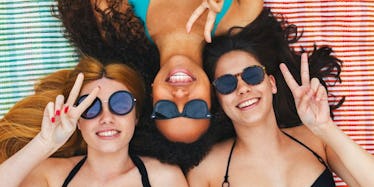 Here's The Perfect Swimsuit Trend For Summer, Based On Your Body Type
Bonnin Studio
After enduring a bizarre March blizzard on the East Coast and associated slush puddle-induced mishaps, I've finally banished my ugly, cold weather boots and coat to the closet. I've been dreaming about warm days, bold prints and bright colors.
And as someone with a casual proclivity for fashion, I've noticed that 2017 is bringing a fashion game that far exceeds the basic skinny jeans of the far-gone era of the early 2000s.
Summer fashion in 2017 is all about surprising silhouettes and bold color combos, and swimwear is no exception.
So, we're bringing you a guide to rock the hottest swimsuits for every body type.
Rectangle
For those girls with a naturally high metabolism who love rocking anything from halters to skinny jeans, a bikini might seem like the go-to swimsuit choice.
But fashion in 2017 is all about dialing back the obvious in favor of subtler lines and showing some skin in surprising places.
Make a statement with a high-cut one-piece, like this one from American Apparel, that goes all the way up to the hip.
Going for a natural, muted tone looks great with every complexion, and it's easily customizable if you want to up the drama.
Hourglass
Forget matching two-pieces.
Put your spin on a surprising combo, mixing bold colors with prints and adding some accessories for added flair.
We're feeling this leopard print high-waisted bottom from Urban Outfitters. The high waist elongate the legs while bringing all the attention to your lovely curves.
Pair your high-waisted bottoms with a funky top in a bright solid or patterned piece.
Inverted triangle
If you're a bit heavier on top, you know support is the number one thing you look for in a bathing suit.
So, try going for a solid color bikini or one-piece with an underwire halter top that's both comfortable and sexy.
This one from Kohl's gives off the perfect pin-up vibe that you'll want to rock all summer long. Pair it with semi high-waisted bottoms to complete your vintage look.
Triangle
For you ladies with that booty on the bottom, high-cut one pieces and string-bikinis might not give you the support you need.
Say goodbye to wedgie life with a cut-out one piece that has a little extra coverage on the bottom, while still being super cute and showing some skin up top.
Patterned suits (we're digging this pineapple one from She In) will also give you a more playful look.
Round
Going for a two-toned or color block bikini (like this one from Target) or one-piece with thick straps and a high back will help keep all your assets in place.
The lighter, brighter color on top paired with the darker color on bottom (or vice versa) will help provide a contrast to elongate your curves.
Pair the sporty, '80s vibe bikini with some bright bangles for even more sass.