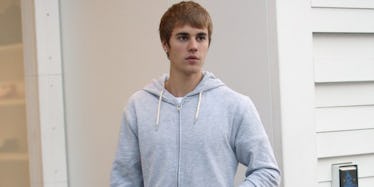 Justin Bieber Took Himself On A Date To The Movies And Sent Back The Nachos
REX/Shutterstock
If you were looking for a way to relate to Justin Bieber, I think I have it.
The pop icon and former Mr. Selena Gomez had a little solo time to himself this week.
According to a report from TMZ, he used that time to take himself, and a few body guards, to a 7 pm showing of "Split" at iPic Theaters in Westwood, Los Angeles.
Before we go on, let me just say, THERE IS NOTHING WRONG WITH GOING TO THE MOVIES BY YOURSELF!
Whether you realize it or not, solo-movies are the bedrock of most of our 20s. Your early-20s are filled with you trying to get people to go to the movies with you, but failing.
Your mid-20s are you just quietly going to movies by yourself and then never telling anybody.
Your late-20s are legit just about bragging about how many lonely movies you go to weekly.
As far as I'm concerned, this is the most relatable thing that millionaire has ever done.
This is a kid who dates models, sells out shows and deleted his uber-popular Instagram account because it was bothering him a little bit -- forgoing, what I can only imagine is, millions in revenue from the platform.
The only problem with how Justin went to the movies is the food he ate.
According to TMZ, while he was there, Justin chugged three Jack and Cokes, flatbread and an order of croquettes, all on iPic's menu. AKA: ZERO POPCORN OR DIPPIN' DOTS.
On top of that, Justin decided to flex his celeb arms mid-movie and order nachos off-menu, even though the theater wasn't equipped to make nachos.
Reportedly, the batch they whipped up wasn't to his fancy Hollywood nacho standards so he sent it back to the kitchen.
OK, I take it back. Maybe Justin's movie-going experience is different from your movie-going experience.
Citations: JUSTIN BIEBER NACHO AVERAGE NIGHT AT THE MOVIES (TMZ)