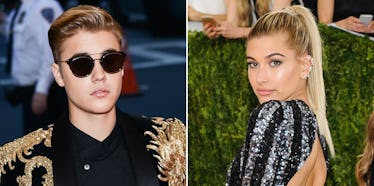 Justin Bieber And Hailey Baldwin Are In Paris After His Split With Sofia Richie
Shutterstock
Everyone throw your ~Jofia 4 Evs~ tees in the garbage where they belong because Justin Bieber and Sofia Richie are done and Hailey Baldwin is back.
Just try to keep up, mmkay?
The 22-year-old pop star and Lionel Richie's 18-year-old daughter may have spent August cheesin' together on Instagram, but the couple is officially done.
Rather than take some reflective solo time, Justin is staying at the same Paris hotel as former flame Hailey Baldwin, Hollywood Life reports.
The Biebs is in town for his Purpose World Tour and is set to perform September 20 and 21 in the City of Lights, aka the City of Jailey's Sweet Tender Reunion.
Fans are thirsty for a throwback.
Justin is in Paris. Hailey is in Paris. Same Hotel. OMG MAH HEART OMG JAILEY ASDFGHJKSNDDJSKSNSK — Kenny (@chexizzle) September 19, 2016
hailey and justin are staying at the same hotel pic.twitter.com/08d316osn3 — anna | HailsUpdates (@ontariohailey) September 19, 2016
Unfortunately, it appears Hails won't be attending the Purpose Tour.
But the duo can at least mend their friendship.
Come on, Jailey. Make it work, s'il vous plaît.
Citations: Justin Bieber & Hailey Baldwin Reuniting In Paris After Sofia Richie Split? (Hollywood Life)