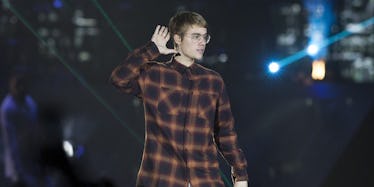 Justin Bieber Covered Taylor Swift Again And This Might Mean War
REX/Shutterstock
This is very, very curious.  Justin Bieber, you never cease to amaze us -- and confuse us.
For the second time, Justin Bieber has covered Taylor Swift's hit song "I Knew You Were Trouble."
Justin Bieber took an absence from Instagram because he may believe it's a tool for Satan.
During his Purpose Tour, he said at a concert,
Instagram is for the devil. I think hell is Instagram. I'm like 90 percent sure.
Jeez, if Hell is Instagram then we're all in for a treat! Just pictures of my dog, high school friends I grew apart from and am shocked have their own lives? I assumed Hell would be a lot worse than that.
He continued,
We get sent to hell and we get locked in the Instagram server. I'm stuck in the DMs. I'm trying to climb my way out and I can't.
Is that the 11th commandment? "Thou shalt not slide into those DMs."
It seems that his break from Instagram has caused him to become confused on the way phones work as well. He has to clarify that he is, indeed, shooting a video instead of just a still-picture selfie.
Despite avoiding social media, Bieber will perform for his friend's camera. Oddly enough, Bieber covered the same few seconds of Swift's song in June.
As we all know, Taylor Swift is best friends with Justin's ex Selena Gomez.
SO WHAT DO YOU MEAN, BIEBER?
There's been a lot of side-taking in the Kanye West and Taylor Swift feud. Back in August, Bieber posted a FaceTime session with West on Instagram and said, "What up Taylor."
What is happening? A famous person just wouldn't post a brief cover of someone they know, right?!
Does this mean that Bieber is raging war on T-Swift and Gomez? "I knew you were trouble when you walked in..."
Or is the pop star paying homage to Swift?
What type of war is about to go down?
Citations: Justin Bieber covers Taylor Swift again and could it spell T-R-O-U-B-L-E? (Mashable)