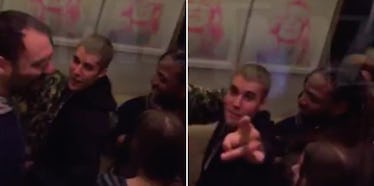 New Video May Prove Justin Bieber Assaulted Guy At Party Just For Taking Selfie
TMZ
Justin Bieber might have one more thing to be "Sorry" about.
Late Saturday night, the night before the Grammy's, Bieber may have been involved in an altercation where he headbutted a man.
The police are currently investigating the situation. There was a "battery report call" around 2 am where a witness "saw Justin Bieber get into two separate altercations with two bartenders," according to the Los Angeles County Sheriff's Department.
The witness said he stopped Bieber from fighting with people and told him to leave. But, "a few minutes later, he saw Mr. Bieber arguing with a patron, when Mr. Bieber suddenly head-butted the patron."
This all went down at the Serafina Sunset restaurant in West Hollywood. A statement from Serafina says,
We can assure you that nobody from our staff was involved, nor did we call the police. We always have a pleasant experience with Mr. Bieber whenever he comes to Serafina.
But now, there may be video to back the story up.
Bieber was fake fighting with Kyle Massey, according to TMZ, when Dean Parker started recording the exchange.
But things went from fake to real when Bieber saw the camera out recording him.
According to Parker, Bieber grabbed at his camera and hit him in the face. Police say it was a headbutt. Check out the video for yourself:
TMZ said Bieber had a cut on his hand as he left the restaurant before police arrived at the scene.
In another video, Parker said he thought things were cool with him and Bieber, who he saw goofing around with Massey.
He wanted to take a picture with him. Parker said,
Next thing I know -- now, I thought it was cool to take a picture with him, he was joking with me, so I thought, you know, I'll get a quick selfie...
Security told him "no pictures."
And you just see him just kind of do a 180 and just got mad and that's when you see him lunge at me. I was like, 'Bro, I don't really understand the point of that, we were just joking a second ago.'
Parker, for his part, said that he does not want to prosecute Bieber, although he would be OK with boxing with him, which sounds like a totally mature thing to request.
Citations: Justin Bieber Being Investigated After Allegedly Head-Butting a Man: Police (People), Justin Bieber Video of Alleged Assault (TMZ)