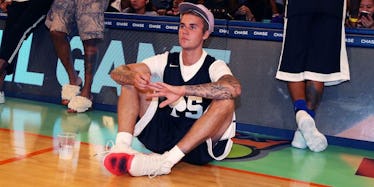 Justin Bieber Makes Appearance After Selena Gomez Hack & He Looks So Happy
Shareif Ziyadat/Getty Images
Justin Bieber, America's favorite bad boy, is not feeling bad anymore. After much controversy over his canceled world tour and randomly showing up naked on Selena Gomez's Instagram account (thanks to a hacker), he's had somewhat of a rough year. I mean, we got "Despacito" from him, so he's not doing that bad, but you get it. On Tuesday, Aug. 29, 2017, the Biebs was spotted outside of the restaurant Il Pastaio in Beverly Hills, grinning from cheek-to-cheek, and I need to know why. If Justin Bieber looks happy after Selena Gomez's Instagram hack, I seriously need to figure out my life, because that was pretty bad.
The Instagram post included a series of Bieber d*ck pics cropped together. The caption also included some weird, explicit language, even going so far as to call Bieber "LIL SHRIMPY." I know, it's really odd. The Bieber images are the same exact ones that were published after the superstar's Bora Bora vacation in 2015. He was photographed naked by the paparazzi, and everyone sort of freaked out, including Bieber. I mean, who wouldn't?
So, now the mystery remains. Was Bieber smiling because he's proud of his naked pics? Is Selena Gomez back in his life? Does he just really love juice? The smile seems pretty genuine, if you ask me!
Bieber could be grinning because he's grateful to be walking! He was recently in the news because of a hospital scare due to "swollen testicles." Yes, his balls were swollen. Of course, that's not all that happened, though. According to TMZ, Beiber went to the ER back in May of 2017 over a soccer injury that possibly twisted one of his testicles. Ouch. According to reports, one of the hospital staffers, Kelly Lombardo, was accused of illegally accessing Bieber's medical files, but Lombardo claims that it's all a lie. Now, she's taking the hospital to court over it. Note to self: this is all about Bieber's balls. We're just happy that he's happy. That's all that matters.