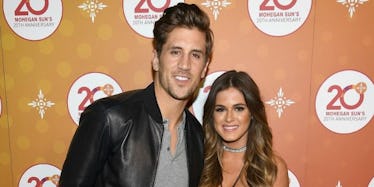 JoJo Fletcher's Birthday Message To Jordan Rodgers Is Ultimate Couple Goals
Getty Images/ Dimitrios Kambouris
Hate on The Bachelor franchise all you want, but it's resulted in some pretty amazing couples. Case in point: JoJo Fletcher and Jordan Rodgers. Besides being literally the most beautiful couple I've ever seen, these two are also super down to earth. They have been together a little over a year, and seem to be a rock solid couple who constantly celebrate life's milestones. JoJo Fletcher's Instagram for Jordan Rodgers' birthday is a perfect example of the love between them.
The photo features Fletcher and Rodgers smiling together with the caption,
Happy Birthday to this gem of a human — there are so many reasons why you deserve to be celebrated, not only today, but everyday! To name a few, thank you for always being my rock, for giving me a million laughs, for being a daily example of what it's like to chase after dreams and never give up, for holding my hair back when I've had one too many rosés ... for always dancing along side me when I embarrassingly try to, and of course, for loving me (& Jackie moon) with everything you have. So, without getting more mushy, HAPPY BIRTHDAY BABE!! @jrodgers11
Fletcher is a freaking wordsmith. I love how she refers to him as her "rock." Seriously, the sweetest. Also, who hasn't been there after too many rosés?
Fletcher and Rodgers haven't tied the knot yet, but that plan is definitely still on the horizon. During an interview with Elite Daily in July, Fletcher explained that her wedding plans look a lot different now than they did after The Bachelorette finale.
I think when we first got engaged, I was so excited. He was so excited that we said that were gonna get married like ASAP because I think just that feeling it was so exciting. And then real life happens and you move with each other and the you realize that this is something you take your time on. And you enjoy being courted and enjoy being engaged and there's no rush for either one of us. And so when the time is right, we're gonna do it. That's still something that we obviously plan to do, but we're not going to just rush into it because that's what's expected, if that makes sense.
That does make a lot of sense. When you get engaged in front of millions of people, probably best to step back and get to know each other.
I love these two, and can't wait to see what's next on their journey. In the meantime, I'm enjoying the sappy posts they share about each other — keep it up.