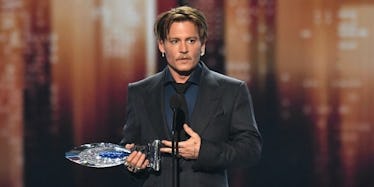 Johnny Depp Gives Emotional Speech In First Appearance Since Finalizing Divorce
REX/Shutterstock
In mid-January, after an extremely long and drawn-out process, Johnny Depp and Amber Heard finalized their divorce.
Wednesday night, at the 2017 People's Choice Awards, Depp made his first public appearance since the divorce was finalized.
The 53-year-old took the stage to accept the Favorite Movie Icon statuette, and he delivered a very emotional speech in which he spent a good amount of time expressing gratitude to those who stood by him during his legal battle with Amber Heard.
As you can hear in the video at the top, Johnny Depp said,
I came here for one reason tonight, and one reason only. I came here for you. The people. Who, through whatever good times or bad, have stood by me. Have trusted me.
The "Pirates of the Caribbean" actor continued,
You've very, very graciously invited me here once again tonight, so I appreciate that very much. You have no idea how much I appreciate it.
Depp then went on to talk about the "well-wishes" he and his family received during his difficult time.
He said,
Listen, I was very deeply affected by the kindness of your recognition and by your well-wishes to my family and to myself. Which is why it's especially meaningful to me to be here, in front of you, to say thank you and to tell you that I truly feel that need to thank you.
Johnny Depp continued to push the point he wouldn't be where he is today without the support of fans.
He told the Microsoft Theater audience,
In all honesty, we all know that none of us, especially me, wouldn't be standing up here if it weren't for you tonight. So thank you, and give 'em hell, Betty Sue!
The 53-year-old's last line was in reference to his mother, who passed away in 2016.
I think it's safe to say not everyone is standing behind Johnny Depp at the moment. It will be interesting to see how things play out for both Depp and Amber Heard in 2017.
Citations: Johnny Depp Makes First Public Appearance Since Finalizing Divorce, Thanks Those Who 'Have Stood by Me' (Entertainment Tonight)