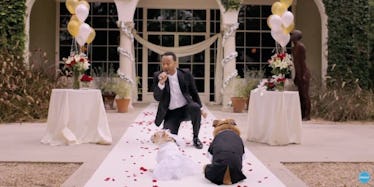 John Legend Adorably Serenades His Dogs At Their Very Own Wedding (Video)
John Legend really loves his dogs. No, really. In this video, Legend can be seen serenading his dogs, Puddy and Pippa, at their very own doggie wedding.
Legend sings "All of Me" to his pups in this clip, and they seem to be into it. Or not. I don't know. They're dogs.
This one also has a pretty great cameo from Legend's wife, Chrissy Teigen, so be on the lookout for that.
The video is funny and for a good cause, so check it out above.