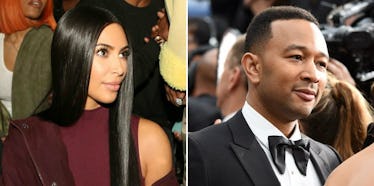 John Legend Defends Kim Kardashian On Twitter Over Troll's Insanely Rude Tweet
REX/Shutterstock
I'll just say what we're all thinking — John Legend is, like, a really great guy.
The "Love Me Now" singer -- who alongside wife Chrissy Teigen calls Kim Kardashian and Kanye West his best couple friends -- recently defended Kim to an online critic on Twitter.
The offender, writer Stuart Stevens, shared a link from The Detroit News claiming Kim wants another baby with Kanye.
Stuart tweeted the link, commenting, "Sometimes it seems the Chinese might have been on to something," in reference to the two-child population policy historically implemented in countries like China and Vietnam.
John replied to the tweet with a standard, clean, beautiful John Legend response.
Even when engaging with Twitter trolls, John is a class act. He sternly looks them in the eye (hypothetically, relax) and is just like, "Hey. You're better than this. Come on. Who hurt you?"
John exists to make sensual music and support the strong, amazing women in his life.
Earlier this month, Chrissy opened up to Glamour about her struggle with postpartum depression and John was right there by her side (because of course he was -- because she's an inspiration -- because she can cook anything and sexy pose in wet sand and mother the crap out of baby Luna).
He told E!,
I'm so proud of her… By acknowledging the pain that she's going through, in doing that she also acknowledges the pain that a lot of women go through after they have a child. A lot of people don't want to talk about it. A lot of people feel alone when they're going through it and for her to let people know that they're not alone, I think was really powerful.
Yes. Amen. Chrissy didn't need to share her experience, but she did, because no one's got your back like future first woman president of these formerly great United States, Chrissy Teigen.
Citations: John Legend Defended Kim Kardashian After This Brutal Tweet (Buzzfeed)