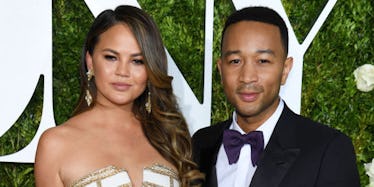 John Legend Brought Chrissy Teigen On Stage At His Concert And It's Everything – VIDEO
Dimitrios Kambouris/Getty Images for Tony Awards Productions)
John Legend brought Chrissy Teigen on stage to dance with him at his concert at Madison Square Garden last night, and all I can do while watching them dance up on each other is scream "ADOPT ME!!!!!!" while also crying.
In the video, the couple is literally grinding like teenagers do at middle school dances, except nothing like that and one billion times more attractive.
Teigen came out in all black to match Legend's all-black outfit, and I feel like this was just a coincidence, but I'm gonna fawn over it as if it was planned because this is my life and my feelings and I can.
Apparently, Teigen had a bit of a nip slip in her flowy jumpsuit, but she handled it in the most Chrissy Teigen way ever: She took the mic right out of Legend's hands and said "sorry" to the audience in a way that really said, "Sorry you just saw my boob, but also, you're welcome for seeing my boob."
If you don't love this couple, you're wrong.
John Legend is currently on his Darkness and Light Tour, and Teigen, baby Luna, and Teigen's mom have been traveling across the country with him.
But Luna seems to be much more interested in Teigen's cooking than she is in Legend's music.
Case in point:
Just kidding, Luna is going to be both a master chef and child prodigy musician.
That is her fate. This picture proves it.
I LOVE YOU, LUNA.
And Chrissy, please keep telling us about what life on tour with John is like. Your insight is everything. Please adopt me.
Just to prove even more that the Legend/Teigen love is the most pure out of all of the celebrity couples on the planet, here's a pic of Legend and Teigen bonding on the bus.
#TourBusLife
I've said it a million times already, but please f*cking adopt me. Or just, like, be my friend. I don't know. This is getting creepy. I'm sorry. I love you.