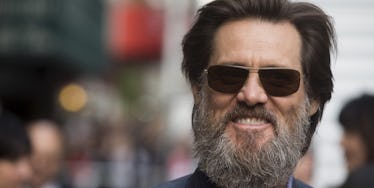 Jim Carrey's GF Wrote Him Suicide Notes: 'I Thought We Had Chosen Each Other'
REUTERS
Jim Carrey's girlfriend wrote a number of suicide notes throughout their relationship, it has emerged.
Cathriona White, who died of an overdose in September 2015, penned one note as early as October 2012 -- two months after they started dating, reports TMZ.
The notes repeatedly say, "I'm not for this world."
In one, White says she doesn't "have the will to carry on" and apologizes to Carrey. In another, she talks about funeral arrangements and says what happens to her body is Carrey's responsibility.
Carrey released a statement in the aftermath of her death addressing accusations he is partly to blame for her suicide. He said,
Cat's troubles were born long before I met her and sadly her tragic end was beyond anyone's control. I really hope that some day soon people will stop trying to profit from this and let her rest in peace.
The notes may play a key role in the wrongful death lawsuit White's estranged husband Mark Burton has brought against Carrey.
The lawsuit has already claimed Carrey gave White a number of STDs including herpes type 1, herpes type 2 and gonorrhea.
Part of the lawsuit reads,
Mr Carrey repeatedly acted in a heartless, outlandish, exploitive, despicable, abhorrent, outrageous, opportunistic and pure evil manner in that: Carrey knowingly gave Ms White sexually transmitted diseases without any regard for her and [her] well-being; Carrey lied about the fact that he had given her the diseases.
Documents carried screenshots of a text exchange between the two after White accused Carrey of infecting her.
In one, he passes off symptoms as "bumps" caused by shaving or having "vigorous sex."
Carrey's tone later changes and he appears to completely block her out. He says,
You have become too much drama. Keep in mind that the things I'm doing are out of kindness. I don't wish to talk any more.
Carrey's lawyers are claiming White's marriage to Burton was a sham so she could seek citizenship and not return to Ireland.
For anonymous, 24/7 emotional support contact the Suicide Prevention Lifeline on 1 800 273 8255.
Citations: TMZ