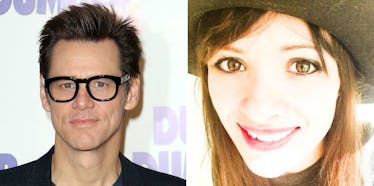 Jim Carrey Is Being Sued For Allegedly Giving Drugs To His Late Ex-Girlfriend
REX/Shutterstock/Twitter
Jim Carrey has been accused of giving his ex-girlfriend the fatal drugs that caused her death.
Cathriona White overdosed almost exactly a year ago, on September 24, 2015, when she was 30 years old.
Police concluded her death was a suicide, after seeing her final tweet as a suicide note.
Signing off Twitter, I hope I have been a light to my nearest and dearest.❤️ to yo all — Cathriona white (@littleirishcat) September 24, 2015
According a report from TMZ, White's estranged husband is now suing the 54-year-old actor and comedian on grounds that bottles of Ambien, Propranolol and Percocet — the drugs White overdosed with — were found under the name of Arthur King.
Arthur King is supposedly Jim Carrey's pseudonym.
Carrey, who dated White on and off beginning in 2012, posted a tribute to Cathriona back in October, two weeks after she died.
Love cannot be lost. pic.twitter.com/XxPYOhkdzc — Jim Carrey (@JimCarrey) October 10, 2015
The suit claims White died only a few days after he provided her the pills and that he allegedly tried to cover up the fact he gave them to her by later texting her he had misplaced the pills.
The suit is also accusing Carrey of knowing White had suicidal tendencies when he gave her the pills.
Citations: JIM CARREY SUED FOR SUPPLYING EX WITH FATAL DRUGS ... Then Covering It Up (TMZ)