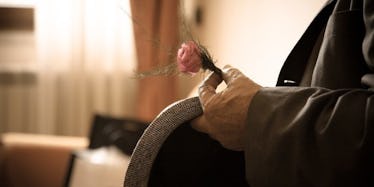 Jim Carrey Posts Moving Tribute For Ex-GF Who Committed Suicide (Photos)
Getty Images
Nearly two weeks after taking her own life, Jim Carrey's late ex-girlfriend, Cathriona White, has finally been laid to rest.
White, whom Carrey dated briefly in 2012 and again earlier this year, was found unresponsive in her Sherman Oaks, California home on September 28. Several empty bottles of prescription pills and an apparent suicide note were found on the scene, leading investigators to conclude the 30-year-old had taken her own life.
The funeral was held yesterday morning at Our Lady of Fatima Church in White's hometown of Cappawhite, Co Tipperary, Ireland. Among the many attendees was Carrey, looking a little worse for wear.
The actor joined the procession and helped to carry White's casket from the church to the burial grounds where she was laid to rest beside her father, Pat.
Shortly after the service, the actor posted a photo of him and White to Twitter, along with the heartbreaking caption, "Love cannot be lost."
Love cannot be lost. pic.twitter.com/XxPYOhkdzc — Jim Carrey (@JimCarrey) October 10, 2015
Aside from a short statement released via his publicist on September 29, the above tweet is the only mention Carrey has made of White's death, preferring instead to grieve in peace.
Our thoughts and best wishes go out to White's family and friends during this time.
See more photos from the service below.
Carrey joined White's friends and family in Cappawhite, Co Tipperary, Ireland yesterday morning.
He joined several other males in the procession...
...and appeared to be devastated as he helped to carry Cathriona's casket to the burial grounds.
May she rest in peace.
If you or someone you know is in crisis, struggling with depression, or having suicidal thoughts, contact the National Suicide Prevention Lifeline at 1 (800) 273-8255 or visit hopeline.com.
Citations: See Jim Carreys Heartbreaking Tribute To His Late Ex Girlfriend Cathriona White (Uproxx)