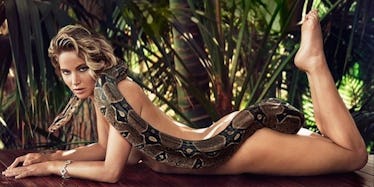 Jennifer Lawrence Poses Nude In A Sexy Photo Shoot With A Snake
A new nude photo of Jennifer Lawrence surfaced, but this time, it was of her own accord.
Lawrence posed for a sexy shoot with Vanity Fair in which she is naked, save for a snake covering her body.
The snake is Colombian red-tailed boa constrictor, which makes me applaud Lawrence's bravery for appearing in this photo.
Baring it all in a magazine is one thing, but having a slimy, dangerous reptile slither all over you is quite another.
Anyway, I'll stop writing so you all can see what you came here to see.
Check out J Law and the snake below.
Citations: Jennifer Lawrence Poses Nude With A Snake For Vanity Fair (Huffington Post)