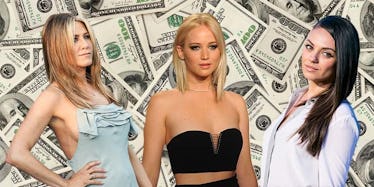 Jennifer Lawrence Beat Out Mila Kunis And Jen Aniston As Highest Paid Actress
REX/Shutterstock
What's in store for a Hollywood actress who has managed to star in over 12 feature films over the last four years? Cold, hard cash, that's what.
If you know anything about being a Hollywood A-lister, you know that big paydays are always expected after the release of a big movie.
That's just what comes with being able to master the art of Theatre. Jennifer Lawrence can certainly relate to raking in the big bucks for her movie roles.
According to People, the 26-year-old actress just topped Forbes' annual ranking of the highest-paid Hollywood actresses that managed to pull in the most cash over the last year.
A few simple math equations make it pretty clear as to how J-Law was able to work her way to the top of such a sought after list in the entertainment industry for the second time in a row.
Last year, she reeled in a reported $52 million in earnings.
The report states, from "The Hunger Games" franchise alone, Jennifer Lawrence was able to pull in a staggering $46 million in 2016.
That's a pretty fat paycheck if you ask me!
This makes perfect sense, though. The final "Hunger Games" installment "Mockingjay -- Part 2" reportedly pulled in $653 million worldwide. It's easy to see why J-Law is indeed ballin'.
In addition to "Mockingjay," the 2015 film "Joy," in which Jennifer Lawrence ironically played a self-made millionaire, raked in $101 million.
The success of these films landed Lawrence her upcoming role in "Passengers" with Chris Pratt.
So, we get it, Jen is ROLLING IN THE DOUGH. That much has been made abundantly clear... But which other Hollywood actresses are on this Forbes list? In other words, who did J-Law beat out money-wise in 2016?!
Here are a few key players...
Melissa McCarthy -- $33 million
Scarlett Johannson -- $25 million
Jennifer Aniston -- $21 million
Fan Bingbing -- $17 million
Charlize Theron -- $16.5 million
Julia Roberts -- $12 million
Mila Kunis -- $11 million
Um, yeah, I think we're all in the wrong business...
Citations: Jennifer Lawrence Tops Forbes' List of Highest-Paid Actresses – Trailed by Melissa McCarthy and Scarlett Johansson (People)