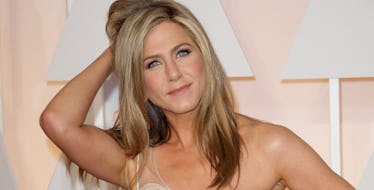 8 People Who Could Low-Key Be Jennifer Aniston's Twin
REX/Shutterstock
You've probably seen Jennifer Aniston's face pop up on social media several times throughout the last week after Brangelina's split.
The 47-year-old actress has been dragged into the drama whether she wants to be apart of it or not.
I'm a big fan of Jen, so I have no problem seeing her gorgeous face all over my Instagram newsfeed.
However, some people aren't too happy she's been making headlines, you know, like her husband Justin Theroux.
Either way, Jennifer Aniston is a hot topic of convo right now so we may as well embrace it. I LOVE YOU, JEN. I LOVE YOU SO MUCH.
Did you know there are actually people on this planet who are blessed with Jen's good looks?!
Yeah, there are real life Jennifer Aniston lookalikes walking among us. THERE ARE REGULAR HUMAN BEINGS WHO LOOK JUST LIKE OUR GIRL.
Before I get roasted and ripped to shreds, I'd like to clarify these people are LOOKALIKES. Not twins, not doppelgängers... just people who have some similar hair and facial features and shit.
Below, check out eight people who could totally pass on the street for Jennifer Aniston.
This mother has basically the same exact face, so don't try to tell me otherwise.
I'm sorry, this girl could totally pass for Jen's sister. There's no doubt about it.
Here's someone who totally has a Jennifer Aniston look about her. Come on, that hair? Yeah, it screams "Jen."
This girl made it easy on us by whipping out a magazine pic so we can compare them side by side.
And this little fairy queen could be Jen circa 2001.
THROWBACKKK!!!
This girl looks like Jen if you turn your head to the side and stuff.
And so does the lady on the left... and on the right, sort of? COME ON, YOU SEE IT.
This lady could be Jen's mother or aunt or older sis or distant cousin twice removed.
Yeah, you know I'm right.
And last, but certainly not least, check out this Jennifer Aniston lookalike tryna beat up an Angelina Jolie lookalike.
MIND = BLOWNNNN.
I'm sorry.