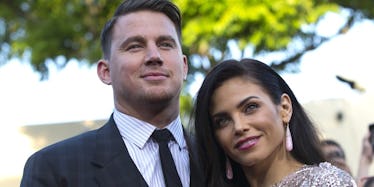 Jenna Dewan And Channing Tatum Want To 'Force' Their Daughter To See 'Step Up'
REUTERS
Don't be too surprised when you see Jenna Dewan-Tatum and Channing Tatum's daughter tearing up the dance floor just like her parents did.
The couple sat down for an interview with Women's Wear Daily, revealing the groovy plans they have in store for their 3-year-old daughter Everly.
Jenna Dewan-Tatum started off by saying,
[Everly]'s a very free-spirited little kid. She likes to run around and do her own thing. But she loves a tutu and she will put on three or four and go around the house and do little shake moves.
It seems to me like little Everly might be looking to take after her mom and dad's epic dance battles from their breakthrough movie roles in "Step Up."
The 35-year-old actress went on to reveal that the couple can't wait to show Everly how important the art of dance has been for the pair. Can you blame them?
After all, their classic roles as Tyler Gage and Nora in the Anne Fletcher-directed film is what led to them falling in love in reality.
Jenna explained,
We keep saying we are going to force feed Step Up to Everly. Like, 'You have to watch. You have to see where you came from.'
Little 3-year-old Everly might be open to dance, but according to Jenna Dewan-Tatum, she wants ZERO parts of the modeling world that Channing and Jenna both explored after acting.
Jenna said,
[Everly] came to a photo shoot with me and the photographer took a picture of us outside. She let me know that night that she did not like that. She said, 'Mommy I'll go to your photo shoot tomorrow, but I do not want my picture taken.' I'm like, 'Understood. I hear your words. Got it.'
Either way, it's obvious that Everly's going to end up shutting the stage DOWN no matter what industry she's in.
I can see it now. The bright lights, the standing ovations, Channing Tatum crying his eyes out front-row center -- it's happening!
I'm just a little shocked that Everly HASN'T watched "Step Up" yet. The movie's 10-year anniversary was two weeks ago. If that's not a perfect time to relive the greatness, I don't know what is.
Maybe they're waiting for her to get just a little older so she can really absorb her mom and dad's silver screen love story.
Citations: Jenna Dewan and Channing Tatum Plan to 'Force Feed' 'Step Up' to Their Daughter Everly (Entertainment Tonight)