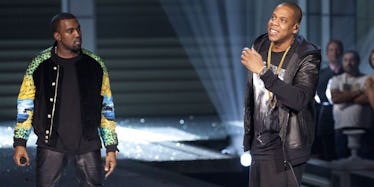 Jay Z Is The First Rapper To Be Added To The Hall Of Fame, So Take A Seat Kanye
REX/Shutterstock
Jay Z will be the first rapper inducted into the Songwriters Hall of Fame and probably owes Beyoncé, Biggie, Nas and anyone else who's ever inspired his songs (for better or worse) a trip to Friendly's.
It's just the nice thing to do.
Legendary producer and performer Nile Rodgers visited CBS This Morning to announce the 2017 Songwriters Hall of Fame inductees, including Sean "Jay Z" Carter.
Fellow inductees include Kenneth "Babyface" Edmonds, Berry Gordy, Jimmy Jam & Terry Lewis, the band Chicago and hit machine Max Martin.
Jay released his debut album Reasonable Doubt in 1996 and has spent the 21 years since churning out memorable music and pretending to retire more often than Cher.
The 47-year-old's Watch the Throne collaborator, Kanye West, likely won't pick up the phone to congratulate Jay on the honor.
In October, Kanye ranted to the crowd at the Seattle stop of his Saint Pablo tour about Jay's fake friendship.
He told attendees,
Don't call me, after the robbery, and say 'How you feelin'?' You wanna know how I'm feeling? Come by the house. Bring the kids by the house, like we're brothers. Our kids ain't never even played together.
In response, Kareem Burke, co-founder of Jay Z's Roc-A-Fella Records, told Page Six,
I was shocked to hear what Kanye said onstage. I'm not sure about the relationship at this point. I spoke to Jay [after Kanye's rant] and we're both just like, 'We miss the old Kanye.'
Oh boy, Kareem, don't we all? We do.
We miss the old Kanye. Straight from the go Kanye. Chop up the soul Kanye. Set on his goals Kanye. Birthed baby moles Kanye. Up in the polls Kanye. The movie "Trolls" Kanye. Spaghetti bowls Kanye. Beyoncé Knowles Kanye. Theme song from "Holes" Kanye. Wore mink stoles Kanye. "For Whom the Bell Tolls" Kanye. Met Dr. Scholls Kanye. #RelationshipGoals Kanye. Poor Unfortunate Souls Kanye. The Dead Sea scrolls Kanye. Shopping at Kohls Kanye.
OH MY GOD, SONGWRITERS HALL OF FAME. INDUCT ME, ALREADY.